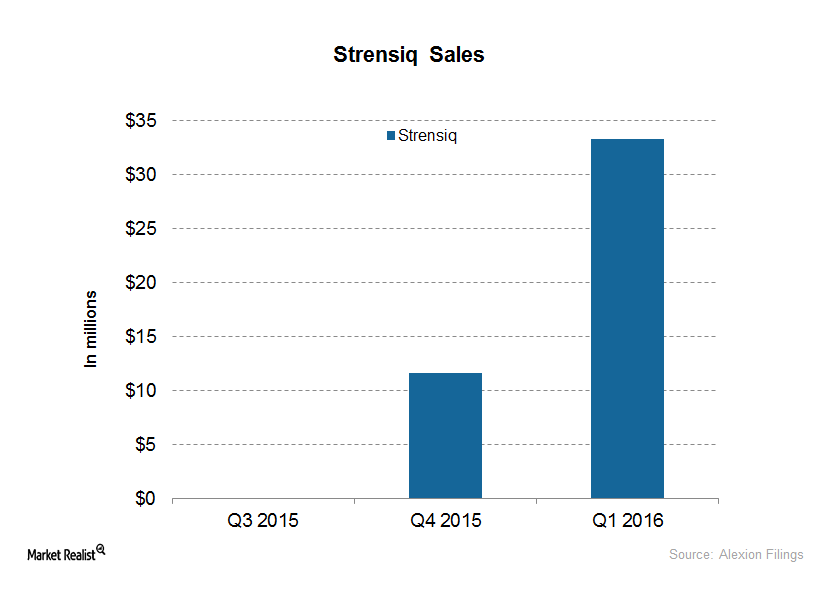 Inside Alexion's Metabolic Drugs Kanuma and Strensiq
By Jillian Dabney

Nov. 20 2020, Updated 4:12 p.m. ET
Strensiq
During the first quarter of 2016, Strensiq added $33.2 million to Alexion Pharmaceuticals' (ALXN) top line. Now the drug is in its initial launch phase in the US, Germany, and Japan. Alexion has initiated "disease awareness and diagnostic initiatives" for expanding the population base for the drug.
Article continues below advertisement
Kanuma
Kanuma has been approved for the treatment of Lysosomal Acid Lipase Deficiency in the US and Germany. During 1Q16, Kanuma earned $2.5 million for Alexion Pharmaceuticals (ALXN). The drug was launched in 1Q16 in the US and is currently serving its initial patients. (For more information on Kanuma, please refer to "Kanuma Has Now Been Approved in the US.")
Launch
Kanuma has launched in the US and Europe. Recently on April 28, 2016, it received marketing approval in Japan. The drug will serve Japanese patients from 3Q16.
Alexion has also initiated the "funding processes with the healthcare authorities in other major European countries for both drugs." Similarly, it plans to pursue the launch of the two drugs in additional countries in fiscal 2017. With such expansion of both these drugs, total dependence on Soliris will likely decline gradually.
To get exposure to Alexion Pharmaceuticals and control excessive company-specific risks, investors can choose to invest in the iShares S&P 500 Growth ETF (IVW). The fund has 4.4% of its total weight in biotechnology sector stocks. It holds 1.32% and 1.13% of its total assets in Gilead Sciences (GILD) and Pfizer (PFE), respectively, and has 0.94% in Allergan (AGN). Alexion accounts for 0.35% of IVW's total holdings.
For more information on how Strensiq was acquired, you might be interested in "Alexion Pharmaceuticals Strengthens Rare Disease Portfolio."
But first, let's discuss analyst expectations about the potential upside of Alexion's stock.