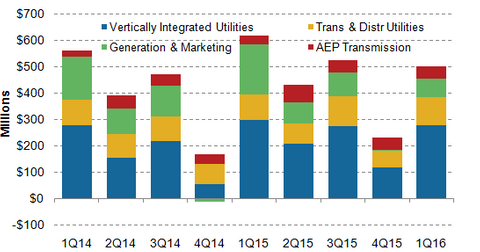 AEP Targets Earnings Growth in 2016 Despite Challenges
By Vineet Kulkarni

Updated
AEP's regulated operations
Over the next few years, American Electric Power (AEP) management will be targeting annual earnings growth of 4% to 6%, strongly supported by the company's regulated operations. By divesting its merchant generation business, AEP could bring down its earnings per share by 20 cents before the use of proceeds. Also, it would turn AEP into a pure-play regulated utility.
The chart above shows American Electric Power's segment-wise net income from the last nine quarters.
Article continues below advertisement
AEP's earnings drivers
Though AEP has a well-diversified area under operations, the weather has dented its earnings significantly over the last several quarters. However, as normal temperatures are forecast, weather may not drag down AEP's earnings as much in 2016.
Additionally, American Electric Power expects the total normalized load growth to increase by 0.9% between 2015 and 2016. The higher sales may result in a healthier bottom line for AEP in 2016. Economic factors such as GDP and employment growth, which act as catalysts in utilities' performance, were downbeat for AEP last year. GDP and employment growth drive the energy demand and both were below the national average in 2015 and 1Q16.
AEP's wholesale segment
PJM Interconnection's May auction data reflects a 2% fall in the energy demand between 2015 and 2016. The fall in the demand may pose a threat to power pricing and negatively affect AEP's wholesale segment. AEP management has not given any deadline or timeline regarding the review of its merchant generation segment. The segment may be re-regulated or sold.
As we've already discussed, utilities (XLU) are expanding their regulated operations to attain stable earnings growth. Exelon (EXC), the largest nuclear power generator, is enhancing its regulated operations with Pepco Holdings. Southern Company (SO), Duke Energy (DUK), and Dominion Resources (D) are also expanding their regulated gas distribution operations through mergers and acquisitions.