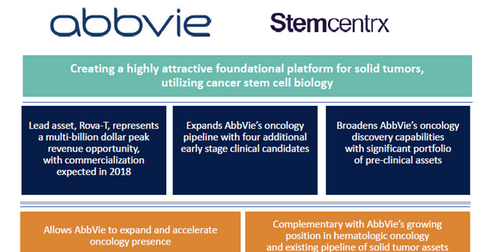 How AbbVie Plans to Strengthen Its Position in Oncology
By Margaret Patrick

Updated
Acquisition of Stemcentrx
On April 28, 2016, AbbVie (ABBV) announced its plans to acquire Stemcentrx, a privately held company with headquarters in San Francisco, California. The deal is expected to be completed at a consideration of about $5.8 billion.
The acquisition of Stemcentrx will add a strong oncology infrastructure, as well as Rova-T (rovalpituzumab tesirine) and four promising investigational drugs for treating solid tumors, to AbbVie's portfolio.
Article continues below advertisement
Addition of Rova-T
With peak sales projected to be around $5 billion, Rova-T is expected to prove pivotal in positioning AbbVie as a leading oncology player. The drug is currently being tested for SCLC (small cell lung cancer), an aggressive cancer that is difficult to treat.
The annual incidence of SCLC is about 60,000 in major developed markets of the United States, Europe, and Japan. SCLC afflicts about 15% of total lung cancer patients. With limited therapies available in the market for the disease and a low five-year survival rate of about 6% witnessed by SCLC patients, there's significant unmet demand for an effective therapy.
If Rova-T is approved by the regulatory authorities, it's expected to prove to be a major growth opportunity for AbbVie.
Early-stage clinical candidates
In addition to Rova-T, the Stemcentrx acquisition will add four early-stage clinical molecules to AbbVie's portfolio. These drugs are being developed to treat solid tumors related to ovarian cancer, triple negative breast cancer, and non-small cell lung cancer (or NSCLC).
With multiple new promising compounds in its research pipeline, AbbVie is expected to pose strong competition to other oncology players such as Celgene (CELG), Amgen (AMGN), and Merck & Co. (MRK).
Oncology platform
Stemcentrx is also expected to add new oncology discovery capabilities to AbbVie's portfolio. The technology platform, which was used to identify Rova-T, can also be used to identify more innovative investigational drugs for treating solid tumors.
If the synergies of the AbbVie–Stemcentrx deal are realized, they may boost the share price of the combined company as well as the share price of the iShares Russell 1000 ETF (IWB). AbbVie makes up about 0.5% of IWB's total portfolio holdings.
In the next article, we'll explore Rova-T's profile in greater detail.