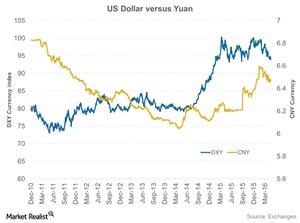 Could the Yuan Replace the US Dollar in the Gold Market?
By Meera Shawn

Apr. 27 2016, Published 3:17 p.m. ET
IMF's inclusion of the yuan
The International Monetary Fund (or IMF) has included the Chinese currency in the SDR (Special Drawing Rights) basket. The inclusion of the yuan in the IMF-created buffer for official reserves made it easy to become a member of the panel that determines the London Bullion Market Association (or LBMA) gold price fix. The initiation of its home currency fix is another step for China in promoting the internationalization of its home currency.
Article continues below advertisement
That China wants the yuan to dominate the financial markets in the place of the US dollar is no secret. The global sentiment that China holds more gold than it discloses is also not a new fear. As the demand for gold gets converted to the yuan, it's possible that the gold price would align more with the yuan than with the US dollar.
Yuan's relative stability
Under the current situation, gold prices are not tightly correlated with the yuan. However, the gold price is closely associated with the US dollar. Alongside gold, a few mining funds that may also closely associate with the dollar include the Global X Silver Miners ETF (SIL), the iShares MSCI Global Gold Miners (RING), and the Global X Uranium ETF (URA).
Even if global participants don't immediately accept the Shanghai gold fix, arbitrageurs might take advantage of the mispricing in the Shanghai, London, and New York markets, increasing the trade volumes in the yuan. Thus, the yuan may slowly gain arbitrageurs' affection. If the popularity of the new fix increases slowly, the yuan could gauge the movement in gold.
The yuan is a comparatively less volatile currency than the US dollar, and the increased use of the yuan in place of the dollar could lead to a comparatively stable price for this precious metal. The stability in price could adversely play on the market participants, especially the arbitrageurs.