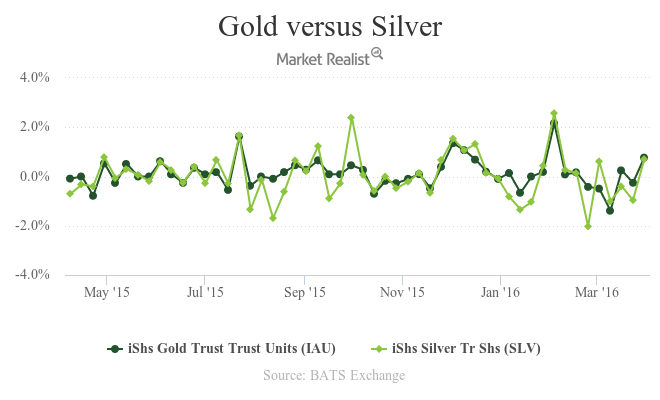 What's the World Gold Council Advising on Gold?
By Meera Shawn

Nov. 20 2020, Updated 2:47 p.m. ET
The World Gold Council on gold
Amid the global unrest that kicked off 2016 were the negative interest rate policies in Japan and Europe. The interest rate going negative may stand for swelling balance sheets and possible currency wars in the future. With negative rates, government bonds pay no interest but rather charge interest. Under these circumstances, investors seem to prefer putting their money in gold rather than government securities.
The World Gold Council has remained optimistic on gold due to NIRPs (negative interest rate policies) of major economies. It stated, "We believe that, over the long run, NIRP may result in structurally higher demand for gold from central banks and investors alike."
Article continues below advertisement
Gold can be effectively used for portfolio diversification under a negative-rate scenario. Investors may also opt for other precious metals such as silver. Price fluctuations in gold and silver are closely monitored by changes in ETFs such as the iShares Gold Trust (IAU) and the iShares Silver Trust (SLV). These two funds closely followed the gains in gold and silver and increased 16.1% and 9.3%, respectively, on a year-to-date basis.
[marketrealist-chart id=1200058]
Paper gold investments
Banks and hedge funds opt for paper rather than physical gold investments. It's the individual investor who's interested in the physical gold market. Most price changes in gold are a result of the paper rather than physical gold market.
Other mutual funds that can be used as an alternative investment to gold include the Invesco Gold and Precious Metals (IGDAX), the Tocqueville Gold Fund (TGLDX), and the Deutsche Gold & Precious Metals (SGDAX). These three funds have risen 38.6%, 32%, and 44.7%, respectively, on a year-to-date basis.