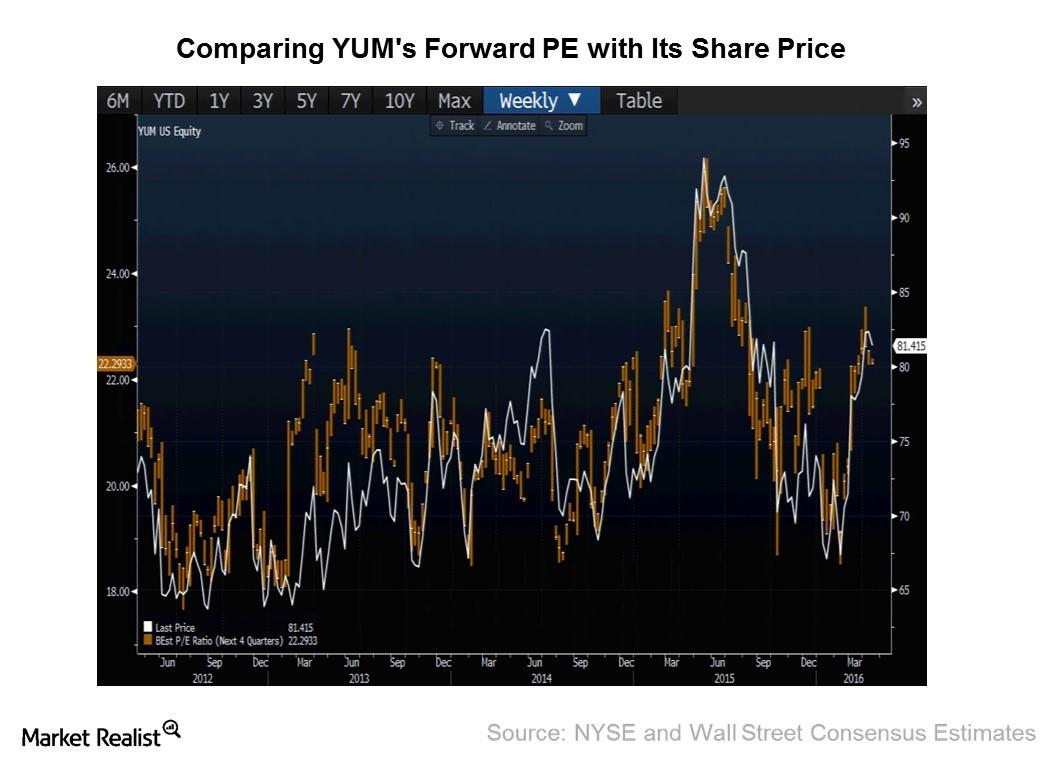 Will Yum! Brands' 1Q16 Results Drive Up Its PE Multiple?
Valuation multiple
Investors should look at valuation multiples when deciding whether to enter or exit a stock. Valuation multiples are driven by perceived growth, risk and uncertainties, and investors' willingness to pay.
There are various multiples available to evaluate a stock. We're choosing the PE (price-to-earning) ratio due to the high visibility of Yum! Brands' (YUM) earnings. The forward PE ratio is calculated by dividing the current share price with the forecast EPS for the next 12 months. YUM forms 0.32% of the holdings of the iShares Russell 1000 Growth ETF (IWF).
Article continues below advertisement
YUM's PE multiple
Since the beginning of 2016, YUM's PE multiple has been trading at 18.5x–23.4x. As of April 11, 2016, the company's PE multiple was trading in the higher range of 22.4x. Peers Papa John's (PZZA), Domino's Pizza (DPZ), and McDonald's (MCD) were trading at 22.8x, 30.7x, and 23x, respectively.
From the above graph, we can see that forward PE moves in tandem with share prices. With the expectation of a spin-off of YUM's China Division, the company's share prices have risen 12% since the beginning of 2016. This has raised the PE multiple from 20.8x to 22.4x. Since the spin-off would reduce the company's exposure to China and the risks associated with it, investors seem ready to pay more with the expectation of earning higher returns in the future.
Risks or uncertainties
YUM's current share prices may have already factored in the EPS estimate of $3.60 in 2016. That represents a growth of 7.5%. If the company's results come in lower, then the stock could face selling pressure. That could bring the PE multiple down, and vice versa.
Currently, investors are expecting the spin-off to reduce the risks associated with China and improve the company's operating efficiency. But it's yet to be seen what effect the spin-off could have on the new entity's operations.
In the final part of our series, we'll look at the mixed bag of analyst recommendations and how they could affect Yum! Brands.