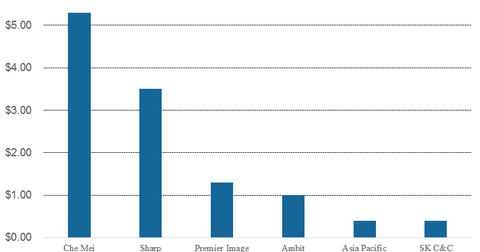 How Will Foxconn's Deal with Sharp Benefit Apple?
By Adam Rogers

Apr. 6 2016, Updated 8:08 a.m. ET
Acquisition will solidify Foxconn and Apple relationship
Taiwan's Foxconn and Japan's (EWJ) Sharp, two Apple (AAPL) suppliers, announced a $3.5 billion deal earlier this week, ending months of negotiations between the two companies. Foxconn has entered into a deal where it will pay $3.5 billion to purchase display maker Sharp. This price is significantly lower than the original $6.3 billion deal announced earlier due to Sharp's undisclosed liabilities of $2.7 billion (or 300 billion yen).
Article continues below advertisement
Sharp currently supplies LCDs (liquid crystal display) that are used in a variety of Apple's product lines, whereas Foxconn assembles the majority of the devices for Apple including the iPhone and the iPad. Sharp is also the main supplier of retina displays for the iPad Pro. After this acquisition, Foxconn will be able to sell displays as well as assembly services to Apple.
"We have much that we want to achieve and I am confident that we will unlock Sharp's true potential and together reach great heights," Foxconn chair Terry Gou said in a statement. As shown in the below chart, this has been one of Foxconn's biggest deals at $3.5 billion.
Will Foxconn manufacture in India?
Foxconn has historically preferred to build devices in China but could start manufacturing Apple devices in India. The main motivation for this change is rising labor costs in China (FXI). Expanding in India (EPI) would give Foxconn and Apple an opportunity to lower manufacturing costs and thereby improve margins.
Another advantage for Apple will be that it will allow the company to reduce the prices of its devices in India. This will help it compete with strong local players such as Micromax, Intex, and Lava. These are the players that sell smartphones based on Google's (GOOG) Android and Android One operating systems.
Even US-based companies such as Microsoft (MSFT) have started to do well in the Indian smartphone market because of optimal price points.