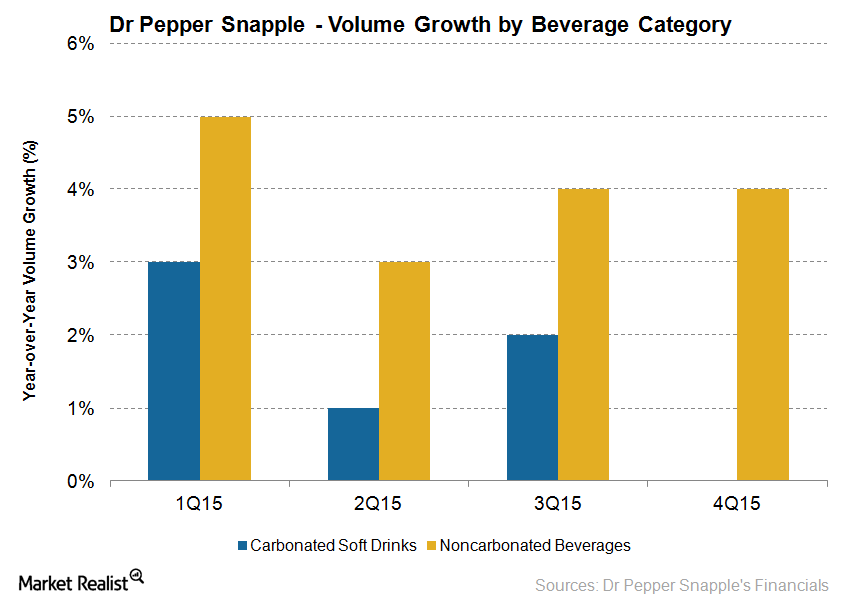 Will Dr Pepper Snapple Benefit from Focus on Still Beverages?
By Sirisha Bhogaraju

Nov. 20 2020, Updated 4:43 p.m. ET
Focus on still beverages
In Part 1 of this series, we discussed Dr Pepper Snapple Group's (DPS) additional investment in BodyArmor sports drinks. Dr Pepper Snapple and peers PepsiCo (PEP) and Coca-Cola (KO) are looking for growth in other still (non-carbonated) beverage categories such as bottled water, ready-to-drink tea, and ready-to-drink coffee. The focus on still beverages comes amid the shift in consumer preferences to healthier beverages.
Article continues below advertisement
Still beverage performance in 2015
The strength of still beverage volume growth compared to carbonated soft drinks was evident in 2015. As seen in the above graph, the volume growth of Dr Pepper Snapple's still beverage portfolio surpassed the volume growth of carbonated soft drinks in each of the four quarters of fiscal 2015.
Overall, Dr Pepper Snapple's still beverage volumes increased 4%, while carbonated soft drink volumes increased 1% in fiscal 2015. The growth in Dr Pepper Snapple's still beverage volumes was driven by the company's water portfolio, which includes third-party brands such as Bai 5 and Fiji. Other still beverage brands that performed well in fiscal 2015 include Snapple, Clamato, and Hawaiian Punch.
Dr Pepper Snapple's acquisition of an additional stake in BodyArmor will help further strengthen its still beverage portfolio. Dr Pepper Snapple constitutes 3.4% of the PowerShares DWA Consumer Staples Momentum ETF (PSL).
Trend in peers' beverage portfolios
In fiscal 2015, Coca-Cola's sparkling beverage volumes increased by 1%, while its still beverage volumes increased an impressive 5%. The growth in Coca-Cola's still beverage portfolio was driven by strength in its packaged water portfolio, ready-to-drink tea, juice and juice drinks, and sports drinks.
Coca-Cola is making strategic acquisitions in order to expand in the still beverages space. In August 2015, it bought a ~30% stake in Suja Juice, the maker of organic juices that uses a technology called high-pressure processing to preserve nutrition and taste. Coca-Cola also purchased a 16.7% stake in Monster Beverage (MNST) to capture growth opportunities in the energy drinks market.
PepsiCo's North America Beverages segment experienced a 6% increase in its non-carbonated beverage volumes in fiscal 2015 and a 2% decline in carbonated soft drink volumes. The strength in PepsiCo's non-carbonated beverage volume was driven by its water portfolio, Gatorade sports drinks, and Lipton ready-to-drink teas.
Our series Nonalcoholic Beverages: How Have US Consumers' Tastes Changed? discusses the general trends in the nonalcoholic beverage industry.
For more information, visit our Nonalcoholic Beverages page.