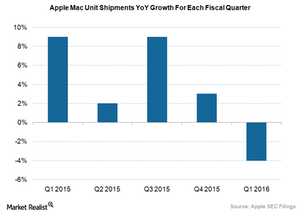 Inside Apple's New MacBook and Its Use of Intel's Skylake Processors
By Puneet Sikka

Updated
Apple's new MacBook has improved features
Apple (AAPL) recently launched its thinnest and lightest MacBook, which boasts a better battery life, improved graphics performance, and faster flash storage. The new MacBook also comes with the latest Intel (INTC) processor, Skylake. Intel has claimed that Skylake comes with 10%–20% better CPU (central processing unit) performance and a 50% better 3D gaming performance.
After a long run of positive sales, Mac sales actually declined for Apple in 4Q15 on a YoY (year-over-year) basis. The graph below shows that Mac sales declined by 4% in that quarter. Although the overall PC market declined by 11%, this decline in Mac sales was still not expected. Apple had one positive factor going for its Mac business, however, and that was the 27% YoY Mac sales growth in China (FXI) in 4Q15.
Article continues below advertisement
Intel's Skylake processors in the new MacBook
Apple Mac still had a better 4Q15 and 3Q15, when sales grew by 3%. The company gave credit to IBM (IBM) for the rapid adoption of Mac for its employees. Apple claimed that IBM is saving $270 per Mac in support costs and residual value compared to a traditional PC.
How Mac sales fare in the future will depend heavily on the state of the overall PC market. According to the latest IDC report, the PC market had a big yearly decline of 12% in the first quarter of 2016. In addition to Apple, Lenovo, HP (HPQ), Dell, and ASUS gained shares in the declining PC market. But the wait for the launch of Intel's Skylake processors is still considered a big factor in the declining PC market. Now that we can see Skylakes processors in the new MacBook, we can expect Mac sales to rejoin the growth path.
Now let's look at Apple's pay service.