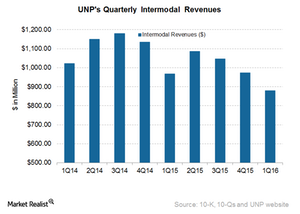 How the Widening of Panama Canal Could Affect Union Pacific
By Samuel Prince

Nov. 20 2020, Updated 2:43 p.m. ET
UNP's Intermodal revenues and volumes in 1Q16
In 1Q16, revenues from Union Pacific's (UNP) Intermodal segment fell by 9% YoY (year-over-year) to $879 million from $967 million in 1Q15. Domestic intermodal shipments declined by 3% to 0.41 million from 0.43 million. This was primarily due to higher inventory levels and dullness in US retail sales.
According to a report by the US Census Bureau, business inventories maintained status quo YoY in 1Q16. A systematic reduction in sales also dampened prospects of clearing shelves of inventory, leaving inventories at their highest levels since 2009.
In 1Q16, volumes of UNP's International Intermodal fell by 3% YoY to 0.37 million from 0.38 million in 1Q15. The weakness in business in the Transpacific market led to declines in volumes.
Article continues below advertisement
Investors should note, however, that sluggish global trade continues to pressure Transpacific rates, and this has resulted in rationalization by Union Pacific-aligned ocean carriers. UNP's overall intermodal business was also affected by competitive premium services at the Providence and Worcester Railroad Company (PWX).
Management outlook
Union Pacific expects growth in its Domestic Intermodal segment going forward, however. This will be mainly driven by increased highway conversions but will likely be offset by higher retail inventories and slow retail sales. Still, the company anticipates a challenging business situation in International Intermodal, given challenges in the Transpacific market and worldwide economic uncertainties.
Article continues below advertisement
Our analysis
With the widening of the Panama Canal slated to begin soon, container lines are teaming up to enhance capacities. This may reduce volumes at West Coast ports and increase conversions to East Coast ports. But it also might negatively impact UNP's Intermodal business, which largely depends on cargo movement from the West Coast port, during the next year.
In 1Q16, UNP's Intermodal volumes also fell compared to that of BNSF Railway (BRK-B). This has been largely due to container rationalization by steamship companies, which has taken a direct toll on UNP's International Intermodal volumes and might have shifted some of UNP's market share toward BNSF Railway.
Peer group intermodal revenues in 2015
Union Pacific reported a 9.2% decline in its Intermodal revenues for fiscal 2015. Here's what happened to that of peers during the same period:
Investors interested in the railroad space might consider the iShares US Industrials ETF (IYJ), which holds 5.0% in Class I railroads.
In the next part, we'll assess the performance of UNP's Agricultural freight revenues in 1Q16.