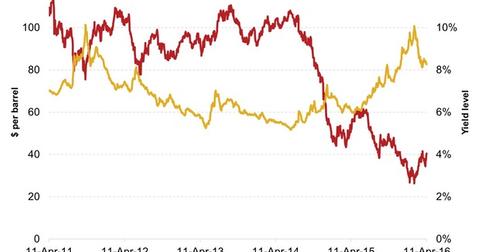 What's Oil's Role in the Current High-Yield Market?
By David Ashworth

Updated
Crude oil prices
Five years ago, crude oil prices were $110 per barrel. Prices touched these levels in September 2013. They came close to these levels in mid-2014 as well. Currently, they're ~$40 per barrel, after touching $26 per barrel on February 11, 2016. The sharp decline started in June 2014. It was exacerbated by the Organization of Petroleum Exporting Countries' decision not to reduce production in light of the decline in prices.
Article continues below advertisement
At a meeting in Doha on April 17, 2016, oil producing nations failed to strike a deal to freeze oil production. This could hurt oil services and exploration companies like WPX Energy (WPX), Parsley Energy (PE), and QEP Resources (QEP) among several others. This move would hurt crude oil prices at least in the short run.
Relationship with high-yield bonds
What do crude oil prices have to do with the high-yield bond market? Energy companies—including those involved in crude oil exploration, services, production, and refining—are among high-yield bond issuers whose bonds are held in the portfolio of actively (AHITX) and passively (JNK) managed funds.
The sharp decline in crude oil prices led to defaults among high-yield bond issuers from the energy sector. Apart from exposure to very low rated papers, exposure to bonds of energy companies hurt the funds that have a sizable portion of their assets invested in them. Another decline in oil prices, or recessionary conditions, will put massive pressure on these issuers. It will increase defaults.
In the above graph, high-yield bond yields, as measured by the BofA Merrill Lynch US High Yield Effective Yield, only rose gradually in response to the fall in crude oil prices in 2014. A subsequent rise helped pull down the yields. However, since mid-2015, the yields rose sharply. They moved closely with a change in crude oil prices. Fund investors must keep an eye on crude oil prices and their fund composition in order to be informed about when to rebalance.
In the next part, let's see where fixed income returns reside in the business cycle.