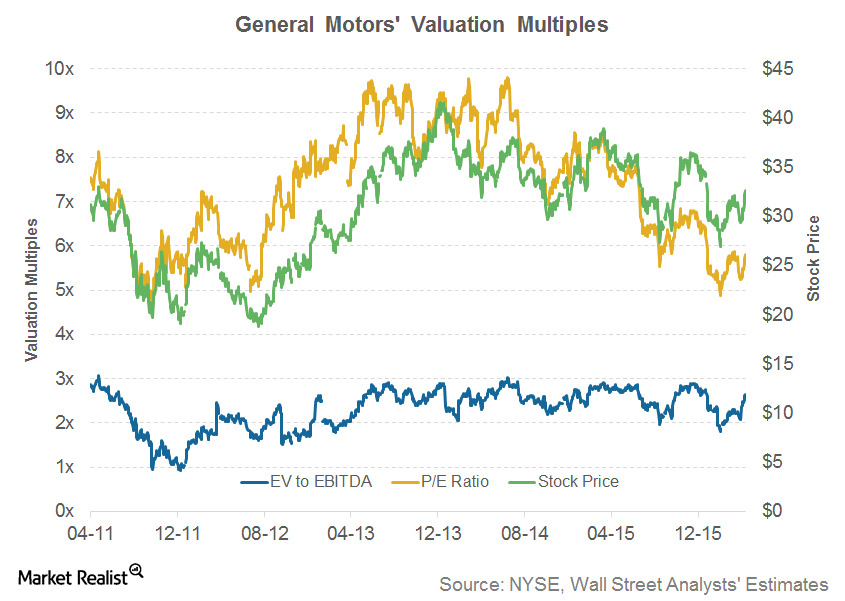 What's Next for General Motors' Valuation Multiples?
By Jitendra Parashar

Dec. 4 2020, Updated 10:52 a.m. ET
Valuation multiples
In the auto industry, valuation multiples are widely used to compare companies. It's worth noting that this comparison can only be made between companies that are similar in nature in terms of business, size, or financials. In this part, we'll find out how General Motors' (GM) valuation multiples are currently trading against its peers. Then we'll look at factors that can affect these multiples in the coming quarters.
Article continues below advertisement
GM's valuation multiples
As of April 22, 2016, General Motors' forward EV-to-EBITDA (enterprise value to earnings before interest, tax, depreciation, and amortization) multiple is 2.7x. This multiple is lower than Ford's (F), its direct competitor, at 3.2x. These multiples are calculated based on estimated EBITDA of the respective companies for the next 12 months.
Currently, Fiat Chrysler Automobiles (FCAU) has the lowest EV-to-EBITDA multiple of 1.4x. The company's risk profile is higher than its peers with high leverage.
Valuation multiples for Toyota (TM) typically trade much higher than those of major US automakers (VCR). This is partly because Toyota has a strong presence in the premium vehicle segment, which yields higher margins than the mass-marketed vehicle segments.
GM's forward PE (price-to-earnings) multiple, based on its earnings forecast for the next 12 months, stands at 5.8x, lower than Ford's at 6.9x.
Now let's look at some risk factors that may drive GM's valuation multiples in the coming quarters.
Risk factors affecting GM's valuation
As we've already seen in this series, GM has been intentionally cutting its fleet sales and focusing more on retail vehicle sales in the US auto market (FXD). Cutting fleet sales helps the company free up its plant capacity to manufacture more profitable vehicles for retail vehicle sales.
So far, this plan has yielded favorable results with expanded margins. However, it also exposes the company to the risk of losing its fleet sale customer base. So in the long run, this strategy could prove to be risky.