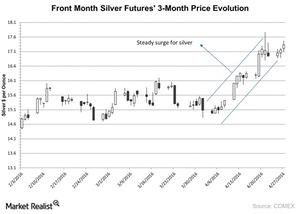 What's Driving Silver's Growth?
Silver outperforms gold
Silver has risen this year and is now the best-performing precious metal, outperforming gold. Whereas gold has risen by about 18% in 2016 so far, silver has surged by a whopping 25%. While silver is supported by industrial demands, it's expected that gold would be boosted by haven bids. However, silver has been winning somehow.
Article continues below advertisement
Output falls
There has been a growing conundrum over the output of silver. Silver demand has surpassed its supply for years, and the gap seems to be widening. The output from mines has fallen for the first time since 2011, while the demand for silver for industrial use and jewelry is heading for a fourth straight yearly rise. Over the last decade, the deficit between the visible silver supply and demand has totaled almost 984 million ounces.
The last trading month has been especially crucial for silver—it's risen approximately 14.4%. During the same timeframe, gold gained a mere 3%.
Silver funds and miners
Silver miners that have risen substantially include Silver Wheaton (SLW), First Majestic Silver (AG), and Coeur Mining (CDE). These three companies have risen by 51.7%, 204.6%, and 189.5%, respectively, since the beginning of the year. Together, these silver miners make up 6.1% of the price fluctuations in the VanEck Vectors Gold Miners ETF (GDX).
Silver mining funds followed the gains in silver. These funds include the Global X Silver Miners ETF (SIL) and the ProShares Ultra Silver ETF (AGQ). These two funds have risen by 83.8% and 50.4%, respectively, since the new year started.