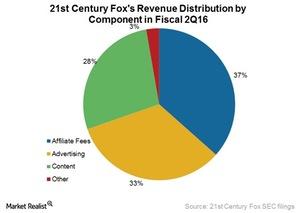 What's the Advertising Revenue Outlook for 21st Century Fox?
By Shirley Pelts

Apr. 27 2016, Updated 2:07 p.m. ET
Television advertising loads up on Fox
Though many media companies have been talking about reductions in advertising loads on television, it seems that there's been little progress on that front.
According to a Broadcasting & Cable report from late April citing analyst Todd Juenger from Sanford C. Bernstein, advertising loads on television fell by just 1% in the first quarter of 2016.
According to the report, television ad loads rose by 8% on 21st Century Fox's (FOXA) networks in 1Q16, while Viacom's (VIAB) "non-kid networks" decreased their television advertising loads by 3% during television primetime in the first quarter.
In contrast, the Walt Disney Company's (DIS) Freeform saw a 33% fall in television advertising loads in the first quarter of 2016.
In fiscal 2Q16, as indicated by the chart above, FOXA had advertising revenue of $2.4 billion, 33% of its total revenue of $7.4 billion. By comparison, CBS's (CBS) fiscal 4Q15 advertising revenue rose by 1% over 4Q14, driven primarily by revenue growth of 8% in network advertising.
Article continues below advertisement
Advertising in fiscal 2016
Fox News is part of FOXA's Cable Network Programming segment. FOXA expects substantial advertising revenue from Fox News because of the coverage of the US presidential elections this year.
The company expects US advertising revenue growth for its Cable Network Programming segment to be in the mid to high single digits in fiscal 2016. The company expects considerable advertising revenue in the United States to come from Fox Sports 1 and 2 and Fox News, and it expects its international advertising revenue to be in the mid-teens, primarily driven by the STAR group of channels in India (EPI).
21st Century Fox makes up 0.19% of the SPDR S&P 500 ETF (SPY). SPY also holds 2.6% of the communication services sector.