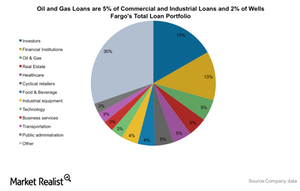 What Is Wells Fargo's Risk Exposure to Falling Oil Prices?
By Rebecca Keats

Updated
Wells Fargo's exposure to the oil and gas sector
Currently, investors are concerned about the banking sector's exposure to energy-related loans. US banks (XLF) have had a rough start to the year as oil prices have continued to fall. Major banks have large oil and gas loan portfolios, and with the fall in oil prices, collateral on these loans is losing value.
As such, banks are increasing their provisions for losses on these loans. JPMorgan Chase (JPM), Wells Fargo (WFC), Bank of America (BAC), and Citigroup (C) have also increased their provisions for loan losses tied to the energy sector.
Article continues below advertisement
Wells Fargo seems secure when it comes to risks arising from energy-related loans. Loans to the oil and gas sector represent less than 2% of Wells Fargo's outstanding loans as of December 2015. Wells Fargo set aside $831 million for loan losses in 4Q15, nearly double the amount compared to the same period last year.
During the company's earnings call, chief financial officer John Shrewsberry said that 38% of WFC's $17 billion loans to the oil and gas sector were classified as "criticized" in the fourth quarter. This was a rise from the company's 33% sub-standard loans in the previous quarter.
In total, Wells Fargo has $42 billion worth of exposure to the oil and gas sector. Of this, $17.4 billion is actual loans, while $25 billion is made up of unused credit lines. During the company's upcoming earnings period, investors will be interested to see whether these credit lines are used or not, as this will indicate whether actual exposure to the sector has increased.
Slightly more than a half of WFC's oil and gas loans were to businesses in the exploration and production sector, which is considered to be the riskiest. Most of these loans have been secured by oil and gas reserves and have underlying borrowing base arrangements. A fall in energy prices has caused an increase in non-accrual loans in the industry.