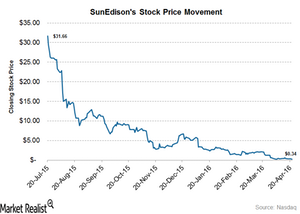 Vivint Solar Acquisition Announcement Triggered SunEdison's Fall
By Sheldon Krieger

May. 4 2016, Updated 1:06 p.m. ET
The announcement
On July 20, 2016, SunEdison (SUNEQ) announced the acquisition of leading residential rooftop solar (TAN) player Vivint Solar (VSLR). According to the terms of the agreement, SunEdison and its yieldco, TerraForm Power, agreed to acquire Vivint Solar for a total purchase consideration of $2.2 billion.
In connection with SunEdison's proposed acquisition of Vivint Solar, SunEdison entered into a definitive purchase agreement with its subsidiary TerraForm Power which, in turn, would acquire Vivint Solar's rooftop portfolio from SunEdison on completion of the acquisition. The proposed acquisition was at more than 50% premium of Vivint Solar's market value. The company planned to fund the acquisition partly through available cash and the remainder through debt.
Although SunEdison's management considered the move as the logical next step, the market reacted the other way. The stock price continued to tumble after the acquisition announcement.
Article continues below advertisement
Impact on SunEdison
Following the market reaction, SunEdison renegotiated the proposed acquisition deal with Vivint Solar to reduce its impact on the company's liquidity position.
However, the highly leveraged acquisition of Invenergy by TerraForm Power and the proposed leveraged acquisition of Vivint Solar led Standard & Poor's to downgrade TerraForm Power (TERP) to B- from B+. Also, TerraForm Global (GLBL) was downgraded to B from B+ and given a negative outlook.
The aftereffect
The Vivint Solar deal also had an impact on SunEdison's internal controls. The company could not file its 10-K filings on time due to the pending deal. Ultimately, Vivint Solar terminated the purchase deal in March 2016 and sued SunEdison for not closing the deal according to the terms of the acquisition agreement.
After the termination of the acquisition deal, the US Department of Justice and the US Securities Exchange Commission launched an investigation to look into the matter. The outcome of the investigation is still pending. Meanwhile, SunEdison's stock has plunged nearly 99% since the announcement of the Vivint Solar acquisition deal.
In the next part of this series, we'll learn how the liquidity crisis led SunEdison to fall apart.