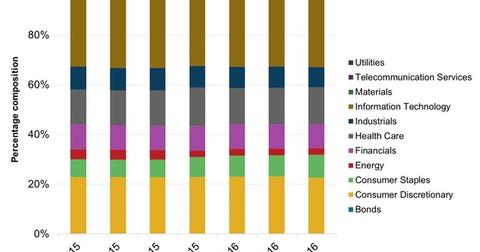 VIGRX's Portfolio Moves Leading Up to 1Q16
By David Ashworth

Apr. 25 2016, Published 3:04 p.m. ET
Vanguard Growth Index Fund
The Vanguard Growth Index Fund Investor Shares (VIGRX) is an index fund, which means that it passively tracks an index and is not actively managed.
The fund is "designed to track the performance of the CRSP US Large Cap Growth Index, a broadly diversified index predominantly made up of growth stocks of large U.S. companies. The Fund attempts to replicate the target index by investing all, or substantially all, of its assets in the stocks that make up the Index, holding each stock in approximately the same."
Article continues below advertisement
As of the end of March 2016, VIGRX was invested in 336 stocks, 15 fewer than a quarter ago. It was managing assets worth $50.0 billion as of March's end. As of the March portfolio, VIGRX's equity holdings included the Walt Disney Company (DIS), McDonald's (MCD), AbbVie (ABBV), Qualcomm (QCOM), and Walgreens Boots Alliance (WBA). These stocks make up a combined 5.6% of the fund's equity holdings.
Historical portfolios
Investors should remember that VIGRX is an index-tracking fund. Hence, when we talk about its portfolio details, we're essentially discussing the underlying index.
Information technology, consumer discretionary, and healthcare are the main sectors that make up VIGRX. They form a combined 68% of the fund's assets. Financials and consumer discretionary stocks form slightly more than 10% of the portfolio each.
The index rebalancing resulted in the consumer discretionary, consumer staples, and healthcare sectors' forming more of the fund's portfolio than they did one year ago. On the other hand, the energy and financials sectors form less of the fund's portfolio than they did one year ago.
Let's see how the fund has fared in 1Q16 in the next article. The fund's performance can be considered as a surrogate benchmark for US large-capitalization mutual funds.