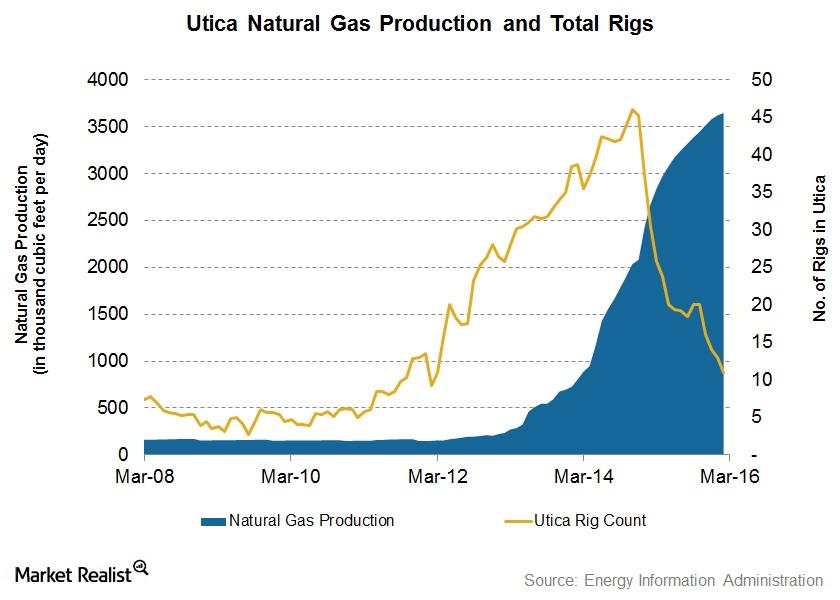 Utica Shale Natural Gas Production Soared in March, and Here's Why
Utica Shale natural gas production
According to the EIA (US Energy Information Administration), the Utica Shale in eastern Ohio has become one of the fastest-growing natural gas producing regions in the United States. In its Drilling Productivity Report released on April 11, 2016, the EIA estimated that Utica Shale natural gas production reached ~3.6 Bcf (billion cubic feet) per day in March 2016. That's ~1% more than production in February 2016 and 37% more than production in March 2015. In the past eight years, natural gas production at the Utica Shale has increased by more than ~22 times.
Article continues below advertisement
Rigs and monthly additions from the average rig
According to Baker Hughes (BHI), the Utica Shale currently has 11 active rigs, down from 13 in February 2016. In comparison, 31 rigs were in operation in the shale in March 2015.
From March 2008 to March 2016, additional natural gas production per rig at the Utica Shale rose from ~0.20 MMcf (million cubic feet) per day to 6.9 MMcf per day, or by ~33x. In the 12 months to March 2016, natural gas production addition per rig rose 25%.
Utica Shale energy operators
Steady Utica Shale production can positively affect oilfield equipment and service providers such as RPC (RES), Precision Drilling (PDS), Baker Hughes (BHI), as well as contract drillers such as Patterson-UTI Energy (PTEN). These companies may continue to improve revenues and profits from operating in the Utica Shale if drilling activity rises. Notably, RES accounts for 4.0% of the SPDR S&P Oil & Gas Equipment & Services ETF (XES).
Continue to the next part for a look at production at the Haynesville Shale.