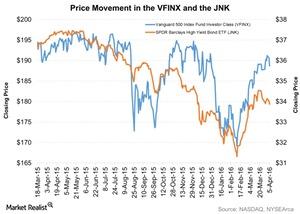 US Indexes Fell Last Week amid Fears of Dismal Corporate Results
US stock indexes fell
The three US equity indexes that we review in this weekly series fell marginally from March 29 to April 5, 2016, due to market participants' fears of dismal corporate quarterly results and falling oil prices.
The S&P 500 Index, tracked by the Vanguard 500 Index Fund Investor Class (VFINX), fell 0.4%. The Dow Jones Industrial Average (DJIA) fell 0.2%, and the NASDAQ was almost flat. The S&P 500 Index is also tracked by the SPDR S&P 500 ETF (SPY), which fell by 0.5% in the same period.
Article continues below advertisement
Why are riskier assets under pressure?
There is widespread fear in the market that corporate results may be poor due to sluggish global demand and the strong US dollar, which makes exports expensive. Alcoa (AA) is set to report its quarterly earnings on April 11, 2016.
According to the recent Global Financial Stability Report published by the International Monetary Fund (or IMF), the slowdown in the emerging markets may spill over to the United States and other developed markets.
The report stated that the "impact of shocks to China's fundamentals on global financial markets is expected to grow stronger and wider over time." In addition to the growth of its economy, the size of China's financial market spillovers "is also likely to grow because of the transition to a more market-based financial system."
Energy companies such as ExxonMobil (XOM) and Chevron (CVX) and equity markets in general have been under continuous pressure due to oil price volatility. Rising speculation as to whether the oil freeze agreement between OPEC (Organization of the Petroleum Exporting Countries) and non-OPEC nations will go through or not has resulted in swings in oil prices.
A meeting of oil-producing nations regarding the oil output freeze is scheduled on April 17 in Doha, Qatar. Kuwait's governor Nawal Al-Fuzaia said, "There are positive indications an agreement will be reached during this meeting on freezing production."
Junk bonds
Junk bond yields fell marginally by one basis point week-over-week and ended up at 8.4% on April 1, 2016.
Due to a fall in yields, the prices of mutual funds and ETFs investing in junk bonds such as the American Funds American High-Income Trust Class A (AHITX), the T. Rowe Price High Yield Fund Advisor Class (PAHIX), the SPDR Barclays Capital High Yield Bond ETF (JNK), and the iShares iBoxx $ High Yield Corporate Bond Fund (HYG) rose in the week ended April 1.
This series will cover the developments in the primary and secondary markets for high yield debt and leveraged loans. We'll begin with developments in the high yield primary market issuance.