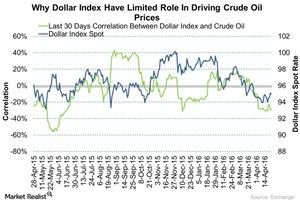 Why Is the US Dollar Index Limited in Driving Crude Oil Prices?
By Rabindra Samanta

Apr. 26 2016, Published 11:56 a.m. ET
US Dollar Index's role is limited
The theoretical relationship between the US Dollar Index and commodities (DBC) is inverse. In the absence of other factors like demand and supply, the US Dollar Index can impact commodity prices. During May 2015, when the US Dollar Index was near 97.5, crude oil had the highest correlation of around -56% with it over the past year. However, in November 2015, when the US Dollar Index touched the yearly high on a closing basis, crude oil had a correlation of just -31% with the US Dollar Index. During November 2015, tensions between the world's two largest oil producers—Russia and Saudi Arabia—over Syria, Iran sanctions, and Saudi Arabia's decision not to reduce the oil supply were stronger in driving crude oil prices than the US Dollar Index. So, the correlation was negative. However, it was greater than the correlation during May 2015.
Article continues below advertisement
How's the US Dollar Index helping the crude oil movement?
From February 26, 2016, to April 22, 2016, the US Dollar Index has fallen around 3%. The last 30-day correlation with crude oil stood at -24% on April 22, 2016. With such a low correlation, it's difficult to clearly identify how the US Dollar Index influences crude oil on a daily basis. The production freeze talks, Saudi Arabia's decision not to join the production freeze, lower crude oil inventories, increased consumption of gasoline in the US (SPY)(IVV), and other mainstream news have been the main drivers of crude oil prices compared to the US Dollar Index.