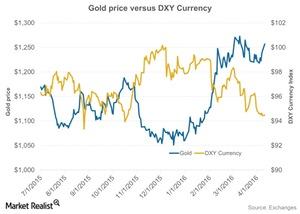 US Dollar Buoyed, Pushed Gold and Gold-Based Funds Lower
By Meera Shawn

Apr. 19 2016, Published 7:04 a.m. ET
Economic data on the US dollar
The strong readings over the past week helped the US dollar gain some strength. Although the CPI (consumer price index) and core CPI figures stood at 0.1%, less than the expected 0.2%, the fall in the jobless claims buoyed the dollar. The CPI measures the change in the price of goods and services purchased by consumers in an economy.
The US dollar is depicted by the DXY currency. It measures the US dollar against a basket of six major world currencies—the euro, Swiss franc, Swedish krona, British sterling pound, Canadian dollar, and Japanese yen. The index gained about 0.86% on a five-day trailing basis. During the same timeframe, we also witnessed a 1.7% fall in gold. Even platinum fell around 1.1% as of April 15, 2016. Siver and palladium maintained gains of 1.3% and 3.5%, respectively, on a five-day trailing basis.
Consumer sentiment measures the level of a composite index based on surveyed consumers. It's used to evaluate the financial conditions in an economy. It was 89.7—less than the expected 91.9. The DXY currency increased by 0.06% on April 15. The strength of the economy is often seen in its currency. 
Article continues below advertisement
Gold-based funds fell
Precious metals and the US dollar are often expected to have a longer-term inverse relationship. As the dollar gains strength, dollar-denominated assets usually suffer. Investors from other countries have to buy a rather expensive dollar to invest in these metals. The DXY currency was trading close to $94 as of April 15.
The funds that have been shadowed by the rise of the US dollar include the Van Eck Merk Gold Trust (OUNZ), the ProShares Ultra Gold (UGL), the PowerShares DB Gold Fund (DGL), the Physical Swiss Gold Shares (SGOL), and the Velocity Shares 3X Gold Long (UGLD). These five funds fell 0.49%, 1.1%, 0.47%, 0.5%, and 1.6%, respectively, on a five-day trailing basis.