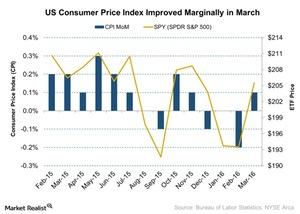 Low US CPI: Will the Fed's Cautious Stance Change?
By Sarah Sands

Updated
US CPI rose in March
The US CPI (consumer price index) rose 0.1% in March. It recovered from a 0.2% drop in February 2016, according to the U.S. Bureau of Labor Statistics. However, it didn't meet analysts' expectation of 0.2%. The rise in consumer prices is mainly due to the rebound in gasoline prices. Gasoline prices rose 2.2% in March after falling 13% in February. The energy index (XLE) rose for the first time since November. However, there was a slowdown in the cost of food, medical care, and housing costs. The food index fell 0.2% in March.
Article continues below advertisement
What does it indicate for the Fed's current stance?
The CPI improved in March. However, it was below analysts' expectations. This shows that inflation is still slowing. It signals that Fed policymakers will remain cautious about tightening interest rates more. The US (QQQ) (SPY) (VFINX) core CPI excludes food and fuel. It increased 0.1% in March. It was below the forecast of 0.2%. In the prior two months, it stood at 0.3%. A modest rise in the energy index and less appreciation in the US dollar (UUP) wasn't enough to show a smooth increase in the inflation.
The CPI index rose 0.9% in the 12 months ending in March—compared to a 1% rise in the 12 months through February. The core CPI rose 2.2% in the 12 months ending in March—compared to a 2.3% rise in the 12 months through February. The central bank has a 2% inflation target. The preferred measure is the U.S. Department of Commerce's personal consumption expenditure measure. It hasn't met the central bank's 2% target since April 2012. In the current scenario, sluggish global economic growth made Fed policymakers follow the cautious move. If inflation growth doesn't pick up, then policymakers could have a hard time raising the interest rate more.
In the next part of this series, we'll analyze how the US producer price index performed in March.