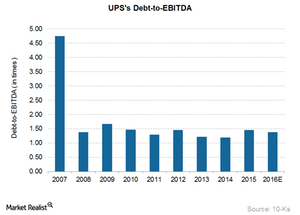 UPS: Where Is Its Leverage Stacked among Its Peers?
By Samuel Prince

Updated
UPS's leverage
Previously, we took a look at United Parcel Service's (UPS) line of capital investments. In this part, we will consider the debt levels of the company. UPS operates in a highly capital-intensive industry. The players spend billions of dollars in fleet acquisition and creating a hub-and-spoke model.
Companies with high levels of debt usually fare poorly in economic downturns. However, these are well positioned to reap more business compared with peers in boom times.
Article continues below advertisement
In January 2008, UPS announced a new financial policy in connection with its capital structure. The main purpose was to increase the shareholders' value. The company said it intended to manage its balance sheet to a target debt ratio of closely 50%–60% funds from operations to total debt. This means the company's debt should be less than twice the funds from operations. 
By looking at the above graph, you can observe that UPS's debt was very high in 2007. In 2007, the debt was $11.0 billion, and it rose to $14.3 billion in 2015. The company issued a net debt of $6.5 billion in the same year. It did so to fund the $6.1 billion withdrawal payment to the Central States Pension Fund after the approval of its labor contract with the Teamsters.
The IBT (International Brotherhood of Teamsters) is a labor union in the US and Canada. Jim Casey, the founder of UPS, allowed its drivers to join the IBT in 1916.
Debt-to-EBITDA ratio
The debt-to-EBITDA (earnings before interest, tax, depreciation, and amortization) multiple measures a company's ability to pay off its historical debt. From this ratio, investors can gauge the estimated time taken by the company to repay the debt. The credit rating agencies generally use this metric to estimate the default chance by companies on incurred debt.
From $11.0 billion debt in 2007, UPS's current total debt is $14.3 billion. The reported EBITDA went up from $2.3 billion in 2007, to $9.8 billion in 2015. In 2016, the expected cash outflow due to contractual obligations is $5.1 billion. However, until 2020, the company's yearly maturities of total contractual obligations are expected to remain in the $1.0 billion range. This should provide enough scope for UPS to make improvements on the operational front.
Peer group debt-to-EBITDA
FedEx (FDX) is a prime competitor of UPS. FDX's current debt-to-EBITDA multiple is 1.13x compared with UPS's 1.4x. On this front, FDX seems to be better positioned than UPS. One UPS's direct global competitors, Yamato Holdings, stands at 2.7x.
In the US market, Old Dominion Freight Line (ODFL), a dominant carrier in the LTL space, carries a debt-to-EBITDA ratio of 0.84x, while YRC Worldwide (YRCW) is at 3.3x. From this, we can conclude that UPS is fairly placed among the industry players in its ability to repay incurred debt through core earnings.
Major US trucking companies make up 11.5% of the iShares Transportation Average ETF (IYT). UPS forms the largest holding of this ETF, which holds 8.2% in the company.
UPS's stock has delivered a positive return compared with competitor FedEx, which we'll cover in the next article.