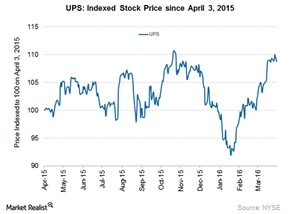 How Has UPS Delivered Returns to Its Shareholders?
By Samuel Prince

Updated
UPS's market capitalization
United Parcel Service (UPS) has two types of common stock: Class A and Class B. Its Class A shares are not listed on any stock exchange or traded in an organized over-the-counter market. UPS's Class A shares are held by employees and retirees. These shares have ten votes per share, whereas Class B shares have one vote per share.
The Class B shares are listed on the NYSE under the ticker UPS. The closing price of a Class B share was $104.90 per share on April 1, 2016, with a market capitalization of $92.2 billion.
Article continues below advertisement
UPS shareowners' returns
In the last year, UPS's stock returned 8.78% to investors. This is more surprising given the headwinds associated with the overall logistics and transportation industry in 2015. Its main competitor, FedEx Corporation (FDX), posted a return of -1.53%. We'll compare the returns of UPS's peers in the industry during the same time.
Old Dominion Freight Line (ODFL) delivered 5.3%
XPO Logistics (XPO) delivered a return of -32.6%
Air Transport Service Group (ATSG) returned 65.3%.
Forward Air Corporation (FWRD) delivered a return of -13.4%.
Yamato Holdings Company returned -23.7%.
Investors seeking diversified industry exposure can consider investment in the Guggenheim S&P 500 Equal Weight ETF (RSP). This ETF invests 0.21% in UPS. Transportation-sector-specific investors can opt for the Industrial Select Sector SPDR ETF (XLI), which invests 3.9% in UPS.
Dividends and share repurchase
UPS's policy is to declare dividends out of current earnings. In 2006, the company paid an annualized dividend of $1.52 per share. It slowly increased the dividend to $2.92 per share in 2015. This represents a CAGR (compound annual growth rate) of 7.5%. Investors should note that this logistics giant has constantly paid a dividend either in cash or stock each year since 1955.
On February 10, 2016, the company has declared a quarterly dividend of $0.78 per share. Assuming the same amount of dividend for fiscal 2016, the annualized dividend comes to $3.12. This represents a growth of 6.8% in 2016 over the previous year. When compared with FedEx's (FDX) 25%, the yearly dividend growth is much less.
However, on the share repurchase front, UPS seems more aggressive than FDX. Since 2000, UPS has been repurchasing shares. On February 14, 2013, the company approved a share repurchase authorization of $10.0 billion with no expiration date. For fiscal 2015, UPS repurchased $2.7 billion in shares and it expects to repurchase ~$2.7 billion in shares in 2016.
In the last part of this United Parcel Service overview, we will try to understand how UPS is valued against its peers.