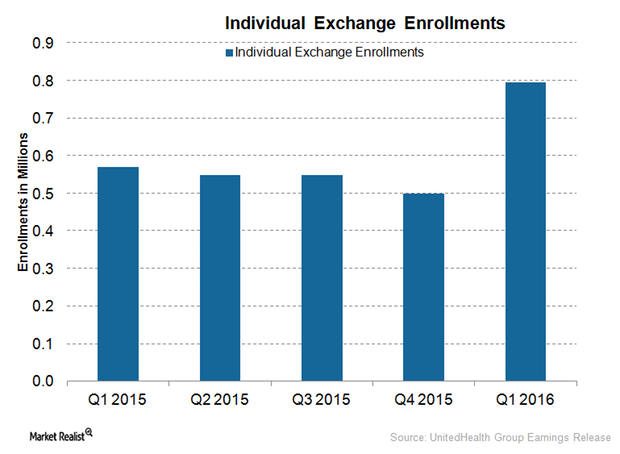 Why UnitedHealth Group Plans to Reduce Its Public Exchange Exposure
By Margaret Patrick

Dec. 4 2020, Updated 10:42 a.m. ET
Public Exchange Business
Owing to the high-risk profile of individual exchange enrollments and the overall smaller size of the market, UnitedHealth Group (UNH) has decided to offer plans only on a few public exchanges in 2017. (For more on the risks faced by UnitedHealth Group in the individual exchange business, please refer to "UnitedHealth Group May Exit Public Exchanges in 2017.")
In 1Q16, UnitedHealth Group's individual exchange enrollments increased by around 300,000 and reached 795,000 members on March 31, 2016. The company expects that this number will decline to 650,000 by December 2016.
Article continues below advertisement
Loss projections
In January 2016, UnitedHealth Group announced that it expected combined losses in the exchange business for 2015 and 2016 to reach around $1 billion. While $475 million of the loss was recognized in 2015, the company has updated its expected loss from exchange business in 2016 from $525 million to $650 million.
UnitedHealth Group's 2016 estimates for medical costs for exchange members continues to be in line with the expenses borne by the company in 2015. To absorb the $125 million in excess losses projected for 2016, the company also allotted additional $125 million in reserves. The company believes that there will not be any impact of exchange losses on the company's financials in 2017.
Individual exchange enrollees
About 50% of UnitedHealth Group's individual exchange enrollees in 2016 have been new customers for the company. Since the health insurer does not possess any data related to these customers, it considers them to be a risk for the company and hence has updated its loss forecast for 2016. Other health insurance companies such as Aetna (AET), Cigna (CI), and Anthem (ANTM) are also facing challenges in the individual exchange business.
If UnitedHealth Group manages to control its individual exchange losses, it could have a positive influence on the share prices of the company as well as on the iShares MSCI USA Minimum Volatility ETF (USMV). UnitedHealth Group makes up about 1.15% of USMV's portfolio.
Now let's check in with UnitedHealth Group's international business in 1Q16.