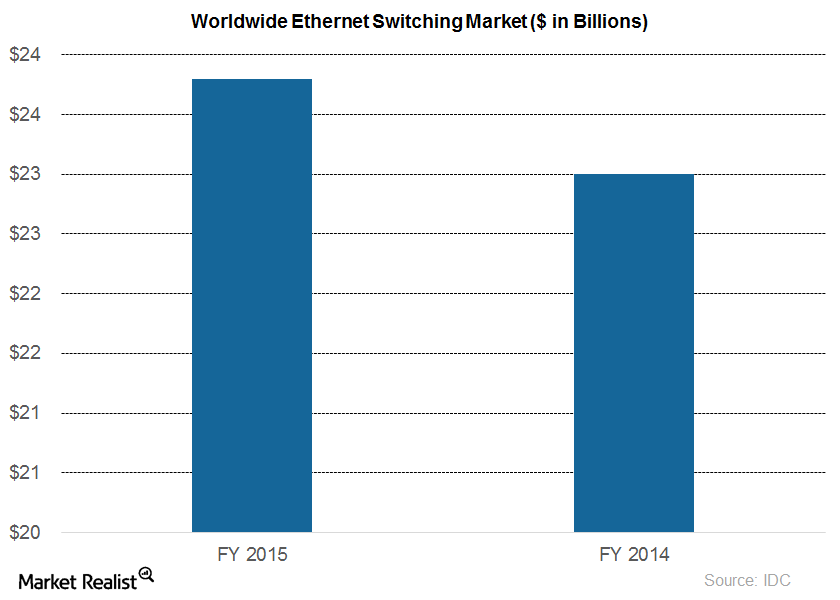 Understanding the Key Growth Drivers in the Switching Market
IoT expected to drive growth in Switching segment
In the next few years, the exponential growth in the IoT (Internet of Things) space will result in a big jump in the number of connected devices. Meanwhile, the BYOD (bring your own device) trend is also projected to increase traffic for service provider networks. Cisco Systems (CSCO), in fact, boasts new switching products that will help businesses to overcome these challenges.
According to Cisco CEO Charles Robbins, the company is looking to drive next-generation data center architectures. Cisco has stated that it will introduce a range of switching products to help businesses keep up with the rapid changes brought about by IoT evolution.
Article continues below advertisement
Switches provide a foundation for other services
Fixed-configuration switches cover a range of deployments in large enterprises as well as in small and medium-sized businesses. This provides a foundation for converged data, voice services, and video services. Enterprise and service providers help customers with large-scale network needs by using modular switches. These products are designed to suit customer needs for flexibility and scalability while aiming to extend advanced networking services without degrading overall network performance.
Notably, Cisco accounts for 3.2% of the Technology Select Sector SPDR (XLK). The other top holdings in XLK include Apple (AAPL) (15.6%), Microsoft (MSFT) (11%), Facebook (FB) (5.6%), and Google (GOOGL) (5.1%).
Now let's take a closer look at the routing market.