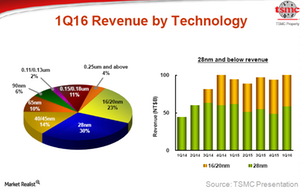 TSMC's Advancement in 16/20nm and Beyond: Can It Drive Growth?
By Puja Tayal

Apr. 20 2016, Updated 2:07 p.m. ET
Samsung – TSMC's strong competitor in technology
In the previous part of the series, we saw that communication semiconductors drive Taiwan Semiconductor Manufacturing Company's (or TSMC's) (TSM) revenue. A slowdown in the overall smartphone market, especially high-end smartphones, affected the company's earnings in the last two quarters. This was offset by an increasing demand from Chinese handset makers.
Adding to TSMC's worries is strong competition from Samsung (SSNLF), which has been moving fast in technology advancements. This saw TSMC lose its key customer Qualcomm (QCOM) to Samsung.
As a result, TSMC has been moving quickly with its 16nm (nanometer) ramp-up and the development of 10nm and 7nm technologies. Let's see the share of each technology toward the company's revenue.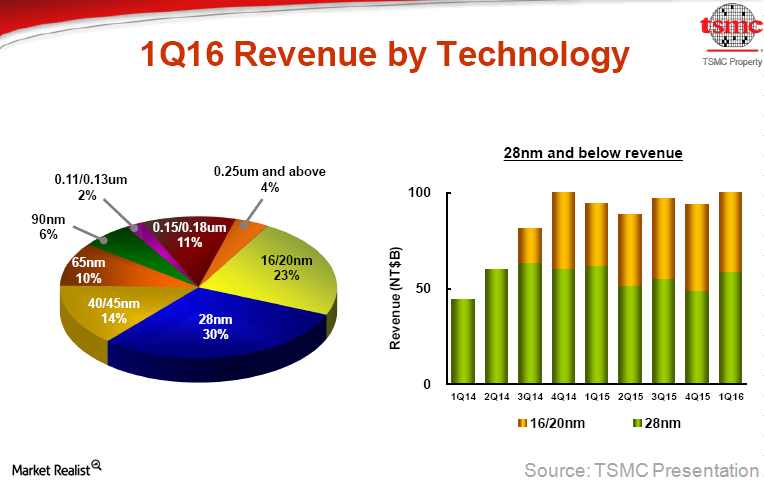 Article continues below advertisement
16/20nm
As seen in the above graph, the contribution of 16/20nm has been increasing, and 28nm has been declining. The contribution of 16/20nm toward wafer revenue fell from 24% in fiscal 4Q15 to 23% in fiscal 1Q16. Reduced orders from Apple (AAPL) and the loss of Qualcomm (QCOM) led to a lower utilization of 16/20nm technology.
According to Gartner, the 20nm and 16nm FinFET (fin-field-effect-transistor) technology helped TSMC secure orders for application processors and the baseband modem chips. Given the current shift to mid and low-end smartphones, the foundry started mass production in fiscal 1Q16 of 16FFC (16 FinFET Compact), a low-power, low-cost version of FinFET technology for lower-end smartphones.
28nm technology
As you can see in the above graph, revenue from 28nm chips increased from 25% in fiscal 4Q15 to 30% in fiscal 1Q16. A strong demand for 28nm technology from mid and low-end smartphone vendors helped the company maintain the 28nm utilization rate above 90%.
The company is investing $9 billion–$10 billion in capital expenditure in fiscal 2016 to ramp up production of 16nm and bring into production 10nm and 7nm technology over the next two years. It would build a 12-inch fabrication facility in Nanjing, China (FXI).
In the next part of this series, we'll look into the company's technology efforts.