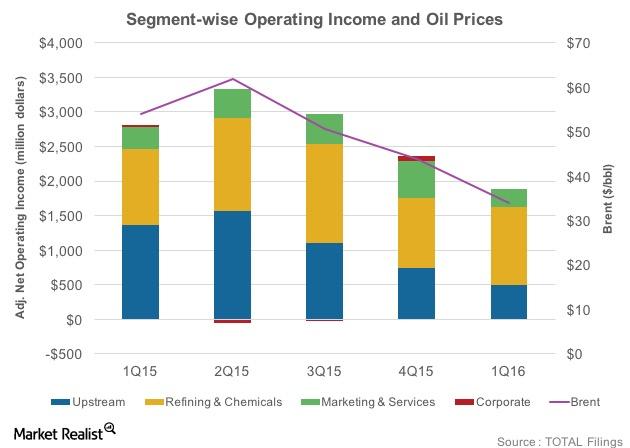 Total's Segments: What's changed in 1Q16?
Total's segments: Upstream earnings plunge
Changing oil prices have changed dynamics within Total's (TOT) segments. The upstream segment, which contributed 48% of the net adjusted operating earnings in 1Q15, contributed 26% in 1Q16. Net adjusted operating earnings from the upstream segment have fallen steeply by 63% from 1Q15 to $0.49 billion in 1Q16 due to lower crude oil prices. The fall was partially offset by increased hydrocarbon production and reduced operating and exploration costs. Brent prices, which averaged $54 per barrel in 1Q15, slipped down to $34 per barrel in 1Q16.
Article continues below advertisement
TOT's downstream earnings rose
Conversely, Total's refining and chemical segment's operating income rose by 3% from 1Q15 to $1.1 billion in 1Q16. The rise in Total's downstream earnings in 1Q16 was on account of stronger petrochemical margins and higher refinery utilization rates, and partly offset by a weaker refining margins. Total's ERMI (European refining margin indicator) fell by 25% from 1Q15 to $35 per metric ton in 1Q16.
Total's marketing and services net adjusted operating income fell by 21% from 1Q15 to $252 million in 1Q16. This was led by a decline in sales of petroleum products.
While Total's (TOT) overall net adjusted operating earnings fell from $2.8 billion in 1Q15 to $1.9 billion in 1Q16, its refining and chemical segment has resisted the decline.
Total's peers' segmental performance
Total's peers' segment dynamics have also changed, which was evident in the previous quarter's results. Royal Dutch Shell's (RDS.A) upstream earnings fell steeply in the fourth quarter of 2015, and Suncor Energy (SU) and Petrobras (PBR) reported losses in their upstream segment. The Vanguard Energy ETF (VDE) has a ~37% exposure to integrated energy sector stocks, including XOM and CVX.