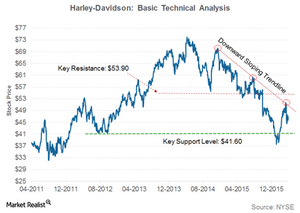 What a Technical Analysis of Harley-Davidson's Stock Suggests
By Jitendra Parashar

Updated
Why technical analysis?
Previously in this series, we explored how Harley-Davidson's (HOG) valuation multiples are trading. While valuation multiples can help investors, it's also important to utilize a technical analysis to identify some key support and resistance areas. These support and resistance areas can be considered as ideal entry or exit price levels for investors.
In this final article of the series, we'll look at Harley's key technical price levels that may act as a price barrier in the coming months.
Article continues below advertisement
Harley-Davidson's technical analysis
As of April 20, 2016, Harley's stock was trading at $46.94. The price is well below the downward sloping trendline, as you can see in the chart above. This trendline should act as a minor resistance near $50.30–$50.50. Upon a breach of this trendline resistance, the stock may attract fresh buying toward the key horizontal resistance area near $53.90.
On the lower side, an immediate support level lies at $44.40. This is the area where its price found support on April 7, 2016, before turning sideways. A breach of this crucial support is likely to trigger a sell-off, at least toward the next key horizontal support of $41.60.
Directional bias
Based on the three trends definition in Dow Theory, HOG's stock is still trading with a primary upward trend with an intermediate downward trend. Note that intermediate trends can continue to progress for the short to medium term while the primary trend remains intact for the long term.
Article continues below advertisement
How to benefit from technical price levels
Technical support levels are those levels below the current market price (or CMP) on the chart that may provide support to a stock in case of a negative price action. Likewise, resistances are found above the CMP on the chart and may resist price movement through them. This makes support and resistance levels a potential reversal zone.
In simpler terms, upward price movements may see resistance around the resistance levels, and downward price movements may hit a roadblock around support levels.
However, a breach of support or resistance may trigger a sharp price action. This means the price may witness a sharp rally if a key resistance area is violated and a sharp fall if a key support level is violated. In both cases, investors could initiate a favorable position or manage their existing positions to benefit from these price levels.
In the next couple of weeks, other automakers (XLY) such as Ford (F), Fiat Chrysler (FCAU), and Tesla (TSLA) are likely to announce their 1Q16 earnings as well. Investors can stay tuned to learn how these companies performed in the first quarter of 2016.
To read more about Harley-Davidson's business, investors can refer to An Investor's Guide to Harley-Davidson: The Motorcycle Pioneer.