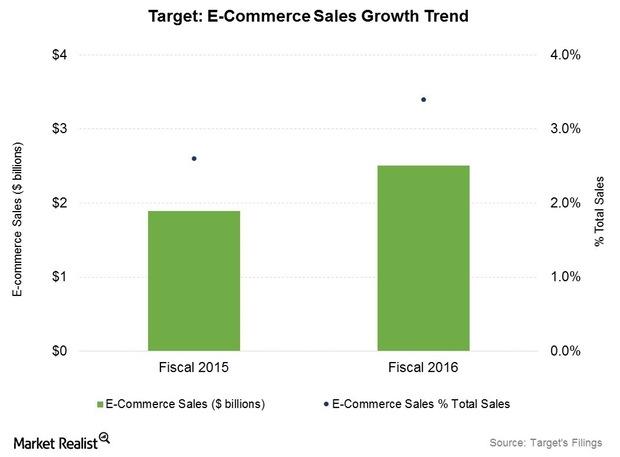 Why Target's E-Commerce Sales Are Surging
By Phalguni Soni

Nov. 22 2019, Updated 6:19 a.m. ET
Digital and brick-and-mortar sales
Target (TGT) reported ~$2.5 billion in e-commerce sales (FXD) in fiscal 2016. This represented 3.4% of the retailer's total revenue. Digital sales rose 31% year-over-year (or YoY), faster than the growth rate of overall US e-commerce sales, which rose 14.6% YoY in 2015 and 15.4% YoY in 2014.
Target's strong performance is due to its omni-channel model, which leverages both its brick-and-mortar store network and its online infrastructure. According to Target, around 75% of its customers start shopping on mobile devices. However, brick-and-mortar stores account for over 90% of the retailer's sales.
Article continues below advertisement
Enhanced fulfillment options
Target's omni-channel model also provides the retailer with enhanced fulfillment options such as ship-from-store and store pickup, consequently spurring the above-average growth rate in its web sales. The company now offers the ship-from-store fulfillment option from over 460 stores, roughly one-fourth of its store count of 1,792.
In-store pickups of online orders rose 60% YoY in fiscal 2016, about twice the rate of Target's overall growth in web sales. Around 30% of the retailer's web sales were fulfilled via physical stores, including about 50% of its online electronics sales.
A larger number of product SKUs (stock keeping units) are available on the company's web store, providing customers with more product options online compared to in stores.
Comparative performance
In contrast, Walmart's (WMT) e-commerce sales rose 12.3% YoY in constant currency terms to $13.7 billion in fiscal 2016. Amazon (AMZN) reported revenue growth of 20.2% YoY in 2015, with total revenue coming in at ~$107 billion. Alibaba's (BABA) revenue rose 45.1% YoY to $76.2 billion in 2015.
However, both Target and Walmart fell short of their respective projections from the start of the year. While Walmart had projected growth of 20%–30% in the e-commerce channel, Target's guidance indicated a 40% YoY growth rate in digital sales.
Despite these misses, expectations from the digital business are robust. Target is looking at boosting its infrastructure to enable a smoother flow of web traffic. On Cyber Monday in 2015, the retailer experienced higher-than-anticipated web traffic. The retailer is also ironing out its supply chain. We'll take a look at this in the next article.