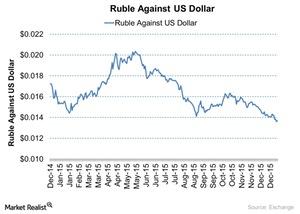 Why Has the Stronger Dollar Affected Russian Oil Giants?
By Rabindra Samanta

Updated
Stronger dollar is a boon for Russian oil giants
Cash reserves for Lukoil (LUKOY), the second-largest oil-producing company based in Russia (RSX)(ERUS), went up by 372% in 4Q15 compared to 4Q14. The company's free cash flow was at 248 billion Russian rubles in 4Q15 compared to 52 billion Russian rubles in 4Q14. Because crude oil is sold in dollars and energy companies' expenditures are in rubles, when the Russian ruble falls against the dollar, the cash realization in rubles through sales increases while expenditure remains the same. The graph below shows the movement of the Russian ruble against the US dollar between December 31, 2014, and December 31, 2015.
The two main factors that contributed to Lukoil's rise in free cash flow were gains from Iraq and a weaker ruble against the US dollar. The ruble has fallen about 23% between December 31, 2015, and December 31, 2014. This series will focus on the following points:
the impact of the weaker ruble on the free cash flows of Russian oil and gas companies such as Gazprom NEFT, Tatneft (OAOFY), and others
the impact of the weaker US dollar on the debt situation of Russian oil and gas companies
Gazprom NEFT is a subsidiary of Gazprom PAO (OGZPY).
Article continues below advertisement
Why free cash flow is important for investors
Free cash flow is the cash left after subtracting capital expenditure from operating cash flow. Free cash flow can be used for dividends, new acquisitions, and to reduce debt. Free cash flow is an important metric of a company's financial health. However, free cash flow can't be interpreted only as quantitative data. Sometimes it requires additional qualitative information. For example, if a company has negative free cash flow, it's not necessarily bad for the company because the company may have to incur higher capital expenditure in order to drive growth.