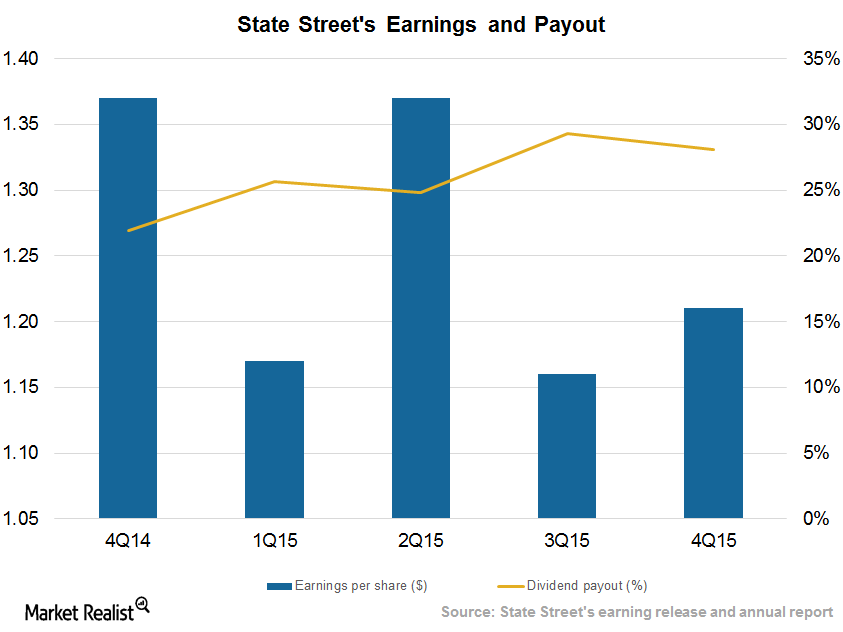 State Street's Asset Position: Still a Concern in 1Q16?
Investors seek to avoid risk
The challenging economic global environment has resulted in rising fear among investors. Some have moved their assets to safe havens from traditional or alternative asset managers. As of the fourth quarter of 2015, State Street (STT) reported average total assets of $245 billion. That's 10.6% lower than the $274 billion in 4Q14.
Average assets fell 0.8%. This fall was attributable to lower valuations of holdings and withdrawals from investors, particularly from one investor for $35 billion. It's also due to lower investments in securities. Shareholder equity fell 1.1% to $21.1 billion compared to $21.3 billion in 4Q14.
State Street's ability to increase its operations and, by extension, its operating flows should help improve its balance sheet. The company reported an operating margin of 23.9% in the last fiscal year compared to its peers.
Together, these companies form 1.7% of the SPDR S&P 500 ETF (SPY).
Article continues below advertisement
Long-term capital plan
State Street's common equity Tier 1 ratio, under both the Basel III fully phased advanced and standardized approaches, were 12.5% and 12.9%, respectively. That's an increase from the previous quarter, mainly due to lower risk-weighted assets. The company's attempt to optimize the balance sheet led to lower excess deposits and stronger capital ratios. The supplementary leverage ratio at the bank thus increased to 5.7% on a fully phased-in basis. This positioned the company well for a long-term capital plan of share repurchases and returning more capital to shareholders.
On a fully phased-in basis, the company's estimated pro forma Basel III common equity Tier 1 ratios as of December 31, 2015, were 11.6% and 12.0%, calculated under the advanced approach and the standardized approach, respectively. That's in conformity with the Basel III final rule.
Leveraging for expansion
State Street's long-term debt has fallen 4.0% to $11.5 billion in 4Q15 from $12.0 billion in 4Q14. The company's long-term debt-to-equity ratio decreased to 55% compared to 56% in 3Q15. State Street is investing in restructuring, new programs, and organic expansion funded partially by long-term debt. Its position remains comfortable compared to industry standards.