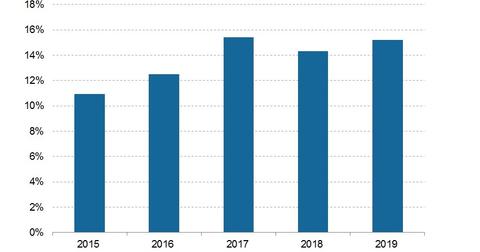 Why Starz Finally Went Direct-to-Consumer with the Starz App
By Shirley Pelts

Updated
Starz goes direct-to-consumer
On April 5, 2016, FierceCable reported that Starz (STRZA) had announced the launch of the Starz direct-to-consumer service for $8.99 per month. The Starz mobile app would be available on Apple's (AAPL) iOS and Alphabet's (GOOG) Android devices.
The app will enable Starz subscribers to watch original series from the Starz network and also popular movies such as the Walt Disney Company's (DIS) Star Wars: The Force Awakens later this year.
Starz's new direct-to-consumer service will enable up to four users to stream simultaneously and will allow "virtually unlimited downloads."
Starz also partnered with Amazon (AMZN) last year as part of its Streaming Partners Program, an OTT (over-the-top) streaming subscription program. The Streaming Partners Program provides viewers with free trial subscriptions for all of its streaming partners.
Article continues below advertisement
Time Warner's (TWX) HBO and CBS's (CBS) Showtime have also gone direct-to-consumer. Starz's direct-to-consumer service will be slightly cheaper than Netflix's (NFLX) plans, which average about $10 per month. In contrast, Time Warner's HBO Now is expensive, at $15 per month, while CBS's Showtime costs $11 per month.
Why are traditional television networks going direct-to-consumer?
As the above chart indicates, according to a report from last year by eMarketer, cord-cutting is expected to accelerate, and it is estimated that around 15.2% of households in the United States will not subscribe to pay-TV in 2019.
To address these cord-cutters and cord-nevers, traditional television networks are going direct-to-consumer or tying up with OTT (over-the-top) services such as Amazon's Prime Instant Video service.
Starz stated at the time of the launch of its direct-to-consumer service that it had "entered the market. . .with an enormous value proposition for consumers."
Starz continued, "Our programming will now be more widely available to the 20 million broadband only homes of cord nevers, cord cutters and cord shavers, including Millennials and other underserved consumers who need other viable subscription service options."
Time Warner makes up 0.3% of the SPDR S&P 500 ETF (SPY). SPY has 4% exposure to the computers sector.