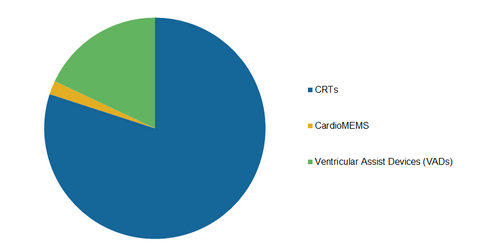 St. Jude's Heart Failure Segment: Performance and Opportunities
By Sarah Collins

Updated
Heart failure segment overview
St. Jude Medical's (STJ) heart failure (or HF) therapy area offers a comprehensive portfolio of products across the continuum of care of its disease segment. In 2015, HF products generated sales of $4 billion and witnessed mid-single-digit growth.
According to estimates, the potential patient base for congestive heart failure is ~23 million. It's expected to increase by around 2 million people every year. The HF product portfolio is comprised mainly of CRT (cardiac resynchronization therapy), cardioMEMS hemodynamic monitoring, and LVAD (left ventricular assist devices).
Article continues below advertisement
CardioMEMS
CardioMEMS is a remote hemodynamic monitoring system that was approved in May 2014. The device enables proactive patient management and has been found to result in a 48% reduction in HF hospitalizations. Other HF monitoring systems have shown to be ineffective in their ability to reduce the hospitalization period.
St. Jude Medical is further focused on enhancing user experience by introducing enhancements for improved automation and better integration of the data of CardioMEMS with hospitals' EHR (electronic health record) systems. St. Jude is also focused on establishing a reimbursement market for hemodynamic monitoring systems.
Cardiac Resynchronization Therapy
CRT devices are used for the treatment of heart failure by electrical stimulation. St. Jude Medical manufactures two types of CRTs: CRT defibrillators (or CRT-D) and CRT Pacemakers (or CRT-P).
With the introduction of innovative devices, including MRI (magnetic resonance imaging) pacemakers and ICDs, traditional CRTs are facing significant pressures with the decline in device sales. In 2015, St. Jude received a CE (Conformité Européene) mark for medical resonance (or MR) conditional labeling for the Quadra Assura CRT-D. This implies that patients with the Quanta Assura CRT-D will be able to undergo an MRI scan under specified conditions. Medtronic (MDT) and Boston Scientific (BSX) are some of the other major manufacturers of CRT products.
Left ventricular assist devices
An LVAD is a mechanical heart pump used for the treatment of end-stage heart failure. Currently, only 10% of eligible patients receive LVAD therapy. Thus, there's an underpenetrated market for the device. In 4Q15, St. Jude's HeartMate 3 Left Ventricular Assist System received the CE mark in Europe. The device is undergoing IDE (investigational device exemption) clinical study in the United States.
HeartMate 3 is expected to gain significant market share in Europe in 2016. It could be tough competition for Heartware's HVAD pump. Heartware is the LVAD market leader in Europe.
The iShares Russell 1000 Growth ETF (IWF) holds approximately 0.09% of its total portfolio in St. Jude Medical. Abiomed (ABMD) is one of the other players in the US market that manufactures ventricular assist devices.
Next, let's see what's driving St. Jude Medical's atrial fibrillation segment.