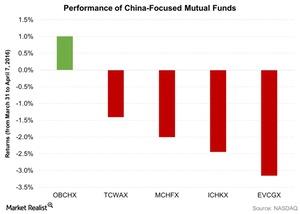 China's 3-Month Selling Ban Expires: Effect on Chinese Stocks
By Lynn Noah

Updated
SSE Composite Index
The SSE (Shanghai Stock Exchange) Composite Index was nearly flat from March 31, 2016, to April 7, 2016, and ended at 3,008.4 on April 7. This came ahead of the next day's expiration of the three-month ban on large shareholders from selling more than 1% of a company's total shares. Investors became worried about the selling pressure on the Market ahead of the ban's expiration. The CSRC (China Securities Regulatory Commission) implemented the ban on large shareholders after China's equity market crashed in June 2015. The ban was extended for three months on January 7.
Article continues below advertisement
Chinese forex regulator is buying up stocks
China's State Administration of Foreign Exchange, or SAFE, through its wholly owned subsidiary Wutongshu Investment Platform Company, is investing in China's stock market. SAFE is controlled by the People's Bank of China, or PBoC, and manages China's $3.2 trillion in foreign reserves.
Wutongshu, along with its two other ventures, Beijing Fengshan Investments and Beijing Kunteng Investments, had taken a major stake worth 27 billion yuan ($4.2 billion) in Bank of China, Shanghai Pudong Development Bank Co., Bank of Communications Co., and Industrial and Commercial Bank of China in 4Q15. The reason that SAFE is buying stocks is unknown, but it is speculated that the PBoC wants to increase its influence on the Market after last summer's crash.
db x-trackers Harvest FTSE China A-H 50 Index UCITS ETF
Deutsche Asset Management launched the db x-trackers Harvest FTSE China A-H 50 Index UCITS ETF (AH50) in Europe on March 30. It trades on the London Stock Exchange and the Deutsche Borse. The ETF intends to profit from the price differences for stocks that sell both on the mainland and in Hong Kong. It is made up of the 50 largest Chinese companies that trade on both markets, but it includes only those stocks that sell for the lowest price.
Returns of China-focused mutual funds
From March 31, 2016, to April 7, 2016, the Oberweis China Opportunities Fund (OBCHX) posted a return of 1.0%, while the Templeton China World Fund (TCWAX), the Matthews China Fund Investor Class (MCHFX), and the Guinness Atkinson China and Hong Kong Fund (ICHKX) fell 1.4%, 2.0%, and 2.4%, respectively.
The Eaton Vance Greater China Growth Fund Class A (EVCGX) was the worst performer for the same period, falling 3.2%.
In the Chinese ADR (American depository receipt) market for the same period, NetEase (NTES) rose 0.9%, while Baidu (BIDU) and Alibaba Group Holding Limited (BABA) fell 4.4% and 1.8%, respectively. The aforementioned mutual funds are invested in these companies.
In the next article in this series, we'll look at China's foreign exchange reserves.