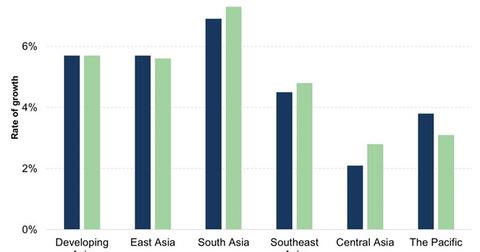 South Asia to Lead the Developing Asia Region in 2016–17
By David Ashworth

Updated
Asian Development Bank report
The ADB (Asian Development Bank) released its annual Asian Development Outlook report at the end of March 2016. In the report, the ADB presented its expectations regarding economic metrics of developing Asia. The region comprises 45 members of the institution. The report projected that developing Asia would grow by 5.7% in 2016 as well as in 2017, a little slower than the 5.9% pace seen in 2015. The report also outlined that inflation in the region fell to 2.2% in 2015, and inflation is expected to rise to 2.5% this year and to 2.7% next year.
Article continues below advertisement
Regional outlook
The Asian Development Bank expects South Asia to drive the broader group's growth in the next two years. South Asia is expected to rise by 6.9% this year and follow this up with a 7.3% increase next year. The region, which comprises eight member countries, grew 7% in 2015.
Southeast Asia, a subregion with ten member nations, is expected to be range-bound in terms of economic growth. From 2014 to 2017, the subregion is expected to grow in the range of 4.4%–4.8%.
Projections are not good for Central Asia and the Pacific subregion. Central Asia grew by 6.6% in 2013. The pace was estimated to have slowed down to 2.9% in 2015 and is expected to slow further to 2.1% in 2016 before picking up to 2.8% in 2017. Meanwhile, the Pacific subregion saw its economy grow by 9.4% in 2014. The pace slowed to 7% in 2015 and is expected to sharply decelerate to 3.8% this year and to 3.1% next year.
Why should it matter to you?
With the US markets seeing weak stock valuations and Europe facing aging economies, the migration crisis, and, more recently, terrorism, you may need to diversify to Asia—both developing and emerging—in order to make your money work harder in a world where returns are not as easy to come by as they once were.
Asia consists of developed nations like Japan, Hong Kong, and Singapore and emerging nations like India and China, which are two of the four members of BRIC (Brazil, Russia, India, and China). While developed nations can work as anchors for your Asian investment, emerging nations can provide an edge to your investment strategy.
In this series, we'll look at mutual funds (CASAX) that help you invest in the Asia-Pacific region (VPL) and give you access to stocks from the region (TM) (FUJHY) (CHL). Before we do that, let's take a look at what the Asian Development Bank had to say in its report.