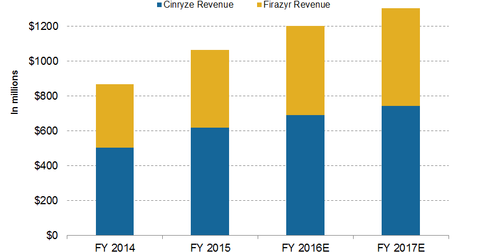 How Does Shire Lead the Angioedema Space?
By Jillian Dabney

Apr. 26 2016, Updated 7:04 p.m. ET
Angioedema drugs
Hereditary angioedema is a rare genetic disorder in which the patient has spontaneous and recurring attacks of swelling in various parts of the body. The prevalence of the disease is estimated to be about 1 in 10,000–50,000 of the population.
Cinryze and Firazyr are Shire's (SHPG) two drugs in its hereditary angioedema portfolio. Together, these two drugs crossed $1 billion in sales in fiscal 2015. Following the Dyax acquisition, Shire added the pipeline drug SHP643 to its existing portfolio.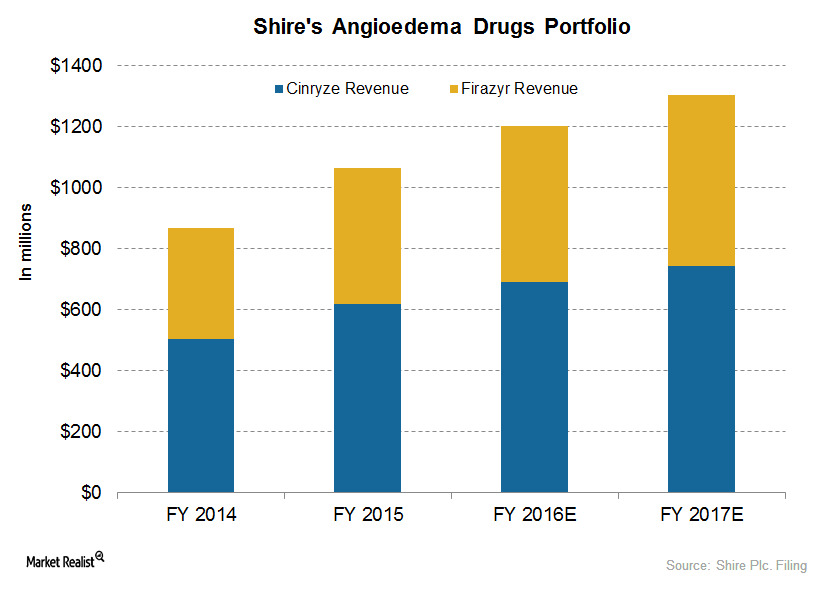 Article continues below advertisement
Cinryze
Shire acquired ViroPharma in January 2014, which gave the company access to Cinryze. The drug is indicated for prophylactic treatment of hereditary angioedema in adolescents and adults.
In 2015, Cinryze contributed $617.7 million, which was ~11% of Shire's total sales. Sales of the drug increased 23% in fiscal 2015. The drug is derived from human plasma and thus is difficult to manufacture.
Shire is conducting various trials on the molecule SHP616, or Cinryze. Of the four ongoing clinical trials, three are in Phase 3 and one is in Phase 2. The Phase 3 trials include one for antibody-mediated rejection and another for hereditary angioedema prophylaxis through a subcutaneous mode of administration. For hereditary angioedema prophylaxis, the drug is in a Phase 3 study in Japan.
In October 2015, the drug received fast-track designation from the FDA (U.S. Food and Drug Administration) for the treatment of antibody-mediated rejection in patients receiving kidney transplants. Currently, the drug is in a Phase 3 study for this indication.
Firazyr
In fiscal 2015, Firazyr earned $445 million, which was an increase of 22% in annual sales.
Pipeline candidate SHP643
SHP643 is currently undergoing a Phase 3 study and has received fast-track, breakthrough therapy as well as orphan drug designations by the FDA. The European Union has also awarded the drug orphan status.
Shire plans to launch the drug by fiscal 2018 and believes it has the potential to earn $2 billion in annual sales. Other companies that conduct research on orphan diseases include Alexion Pharmaceuticals (ALXN), BioMarin Pharmaceutical (BMRN), and Biogen Idec (BIIB).
To avoid the ups and downs in the price of a stock, investors can opt to invest in the VanEck Vectors Pharmaceutical ETF (PPH). Shire accounts for 5.0% of PPH's total holdings.
In the final part of our series, we'll look at Shire's patent infringement case for Lialda for ulcerative colitis.