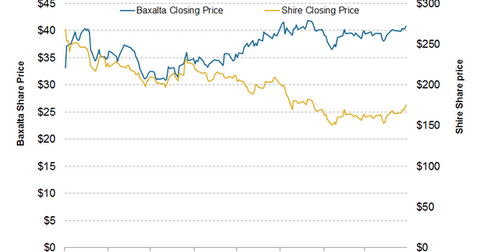 Why Did Shire Fall after Shire-Baxalta Acquisition Announcement?
By Jillian Dabney

Updated
The Shire-Baxalta deal
On January 11, 2016, Shire (SHPG) announced a merger agreement with Baxalta for a whopping $32 billion. Baxalta had declined Shire's first offer in August 2015, and then it took about six months for Shire to meet Baxalta's deal expectations.
The Shire-Baxalta deal is still in progress and should close by mid-2016. With news of the acquisition, Shire shares fell 9%. Perhaps investors weren't convinced it was a good deal. On August 3, 2015, the day before Shire expressed its interest in a takeover, Baxalta shares rose following a 37.5% premium over its closing price.
One of the many reasons for the fall in Shire stock was probably competition for Baxalta's hemophilia portfolio. Fierce competition and ongoing research for the disorder most likely made Wall Street question whether Shire has paid more for Baxalta than it should have.
Article continues below advertisement
Hemophilia market competition
Biogen (BIIB), Roche Holding (RHHBY), and BioMarin Pharmaceutical (BMRN) are all conducting research on hemophilia drugs. The hemophilia market is valued at $6 billion–$8 billion in terms of sales. Since hemophilia is a rare disease, companies can charge premium prices for their innovative drugs. As a result, many competitors are trying to come up with new therapies in this attractive market.
Currently, there's no approved gene therapy for hemophilia. However, Biogen's ongoing research in collaboration with Sangamo BioSciences (SGMO) to evaluate gene therapy for hemophilia is a threat to Baxalta's hemophilia portfolio.
Another potential competitor in the hemophilia space is BioMarin's BMN 270, a pipeline gene therapy indicated for hemophilia A. It received orphan drug designation from the FDA (U.S. Food and Drug Administration) on March 1, 2016. The drug is currently in Phase 1 and Phase 2 clinical studies.
Although Baxalta is currently the leader in the hemophilia space and derives a major portion of its revenue from hemophilia drugs, the success of any of the above therapies would adversely affect Baxalta's sales. This questions the price Shire has offered for the acquisition. But with Baxalta's advancing pipeline of hemophilia drugs and gene therapy, the deal might prove beneficial for Shire in the long run.
For details on the acquisition synergies, please refer to Growth and Synergies Drive the Baxalta–Shire Merger.
To get exposure to Shire and reduce excessive company-specific risks, you can invest in the VanEck Vectors Pharmaceutical ETF (PPH). Shire accounts for 5.0% of PPH's total holdings.
In the next part of this series, we'll take a look at Baxalta's operating segments and expertise pipeline to see how they could become a catalyst for Shire.