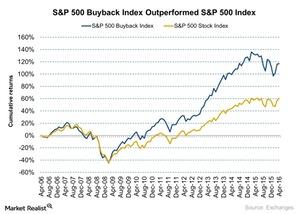 Share Buybacks: Lower Valuation or Cheap Capital?
By Sarah Sands

Apr. 21 2016, Updated 8:48 a.m. ET
Share buybacks
Companies report profit through EPS (earnings per share). By reducing the number of outstanding shares, companies increase the EPS. Through share buybacks, companies return more cash to shareholders. In the first two years of the bull run from 2003 to 2007, the increasing profit margin helped the companies of the S&P 500 index to double their earnings. Currently, this margin growth is showing flat performance. As a result, buybacks' contribution is more important in the current environment. The S&P 500 index (SPY) (SPXL) is heading towards its 1Q16 results. According to analysts' estimates, there won't be a huge improvement in the first quarter results. FactSet estimates that the S&P 500 index's earnings will fall 8.5%.
Article continues below advertisement
Lower valuation
According to the global strategist at BTIG, which provides trading services to institutional investors, share buybacks are used when companies think that their shares are undervalued in the last few years. In 2015, the S&P 500 index's share buybacks (SPYB) (PKW) topped 2008, 2009, 2010, and 2012 with an annual record of $993 billion.
Cheap money
Currently, all of the developed markets (EFA) (VEA) are maintaining their interest rates at a near-zero level. This shows that easy money is available in the economy. Companies generally borrow money to buy back their shares. However, politicians argue that the companies should use cheap money to hire new workers, pay them more, build new plants, and invest in research. By investing in such areas, companies could have a bigger long-term impact on their bottom lines than utilizing the easy money to buy their own stock. According to a strategist at BlackRock, companies should focus on creating long-term ownership instead of returning more money to shareholders.
In the next part, we'll analyze whether share buybacks will continue to lead the way in the current low growth environment.