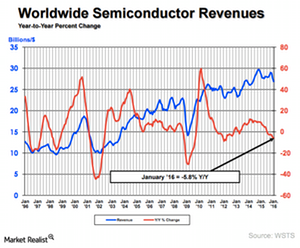 Why Is the Semiconductor Industry Outlook So Bleak?
By Puja Tayal

Updated
Semiconductor industry outlook
In the previous part of the series, we saw that technology stagnation, weak macroeconomic environment, and the rising cost of Apple's (AAPL) iPhone are some key reasons for slower iPhone sales. Now let's look at the overall scenario of the smartphone and semiconductor industry.
In October 2015, Gartner estimated that the global semiconductor industry revenue would fall 0.8% YoY (year-over-year) in fiscal 2015 and rise 1.9% YoY in 2016. However, the slowdown in consumer demand for electronics, higher channel inventory, and the strong dollar pulled down global semiconductor revenue by 2.3% YoY in fiscal 2015. Gartner now expects global semiconductor revenue to fall 0.6% YoY in 2016.
This would be the second time the semiconductor industry has witnessed two consecutive years of decline. The first consecutive decline came in 2008 and 2009.
Article continues below advertisement
Why is semiconductor revenue falling?
Most semiconductor companies, including dominant players Intel (INTC), Qualcomm (QCOM), and Micron Technology (MU), expect a slow start to the year. They expect growth to pick up in the second half of 2016 as new products are launched.
However, the weakness in the PC (personal computer) market continues with Microsoft's (MSFT) Windows 10 and Intel's Skylake processors failing to pump up sales. Virtual reality is expected to encourage consumers to upgrade their PCs in 2016. Joining the bandwagon are smartphone sales, which, according to Gartner, are expected to increase only 7% YoY in 2016 after growing 9.7% YoY in 2015. However, the demand is shifting away from high-end phones to mid and low-end phones in China and emerging markets (EEM).
The two main growth drivers of semiconductor revenue have witnessed a slowdown. There's no significant growth driver that would offset the weakness in the near term. Opportunities do exist with IoT (Internet of things), but it will be a long time before IoT growth takes the Market by storm.