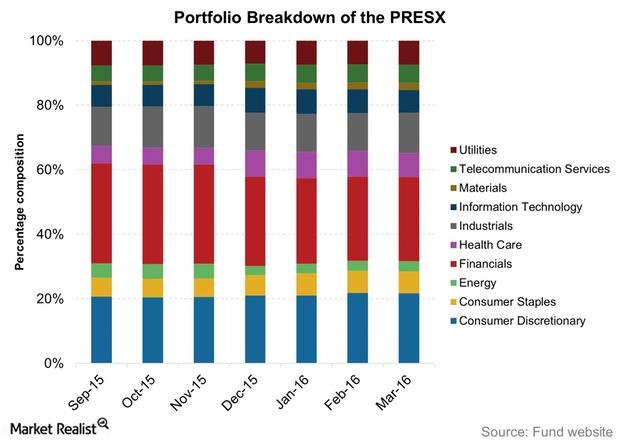 Sector Composition Changes in PRESX until 1Q16
By David Ashworth

Apr. 28 2016, Updated 4:35 p.m. ET
T. Rowe Price European Stock Fund
The T. Rowe Price European Stock Fund (PRESX) seeks to grow capital "through investment primarily in common stocks of both large and small European companies. Current income is a secondary objective." The fund states that its assets will be invested in at least five countries.
PRESX's management uses a bottom-up approach when constructing the portfolio. The industry sector and country outlooks don't matter as much as company fundamentals. The fund says that "country allocation is driven largely by stock selection, though the adviser may limit investments in markets or industries that appear to have poor overall prospects." It further states that it doesn't have a growth or value bias when picking stocks.
Article continues below advertisement
The fund's assets were spread across 62 holdings as of March 2016, three less than a quarter ago. It was managing assets worth $1.5 billion. As of the December portfolio, which is the latest one available, its equity holdings included GlaxoSmithKline (GSK), Nestlé (NSRGY), Novartis (NVS), Aviva (AV), and Burberry Group (BURBY), which make up 9.7% of the portfolio.
Portfolio changes in the T. Rowe Price European Stock Fund
For this analysis, we'll be considering PRESX's holdings as of December 2015. That's the latest available sectoral breakdown that we have. The holdings after December reflect the valuation-driven changes to the portfolio, not the actual holding. Keep in mind that the fund discloses portfolio holdings only once a quarter.
Consumer discretionary and financials are PRESX's joint highest invested sectors. Apart from these two, industrials and healthcare are at the heart of the fund. These four sectors combined form 60% of the fund's assets. PRESX is invested across all ten sectors and has a higher exposure to utilities and telecom services compared to its peers.
Compared to a year ago, exposure to healthcare, information technology, telecom services, and utilities has gone up. On the other hand, materials and financials have seen their respective shares decrease in this period.
Intraperiod, fund management decreased exposure to consumer staples, healthcare, and materials, but increased it later. The opposite was true for energy and financials, where exposure was increased but reduced later.
What has contributed to PRESX's 1Q16 performance? Let's find out in the next part of the series.