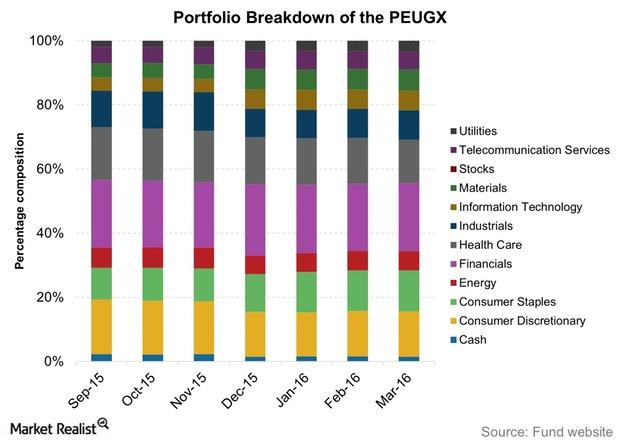 Sector Composition Changes in PEUGX until 1Q16
By David Ashworth

Apr. 28 2016, Updated 4:35 p.m. ET
Putnam Europe Equity Fund
The Putnam Europe Equity Fund – Class A (PEUGX) invests in "established large and midsize companies across Europe that benefit from the region's economy and from operations in global markets." The fund states that it can invest in either growth or value stocks.
Fundamental research forms the backbone of PEUGX's investment process. It supplements fundamental research by making use of macroeconomic analysis and quantitative tools. The fund manager pursues Putnam's blend strategy in which it can invest in either growth or value stocks. This indicates that it doesn't have a style bias.
Article continues below advertisement
The fund's assets were spread across 70 holdings as of March 2016, one less than a quarter ago. It was managing assets worth $314 million. As of March, its top ten equity holdings included Royal Dutch Shell (RDS.A), Novartis (NVS), Unilever (UN), Anheuser-Busch InBev (BUD), and Vodafone Group (VOD), which comprises 14.5% of the fund's portfolio.
Portfolio changes in the Putnam Europe Equity Fund
For this analysis, we'll be considering PEUGX's holdings as of December 2015, the latest available sectoral breakdown that we have. The holdings after December reflect valuation-driven changes to the portfolio, not the actual holding. The fund declares portfolios once a quarter and has yet to release its portfolio for March 2016.
PEUGX invests across all ten GICS (Global Industry Classification Standard) sectors. Financials, consumer discretionary, healthcare, and consumer staples form the core of the fund and account for 61% of its assets. The fund has been nearly consistently reducing its cash holdings since mid-2015. This means it has been deploying this money into equities.
In the past year, the fund manager has increased exposure to financials, materials, telecom services, and utilities. In the period, it has almost doubled exposure to information technology stocks. This increase has come at the expense of a reduction in allocations to consumer discretionary, healthcare, and industrials.
How has PEUGX's portfolio positioning impacted its returns in 1Q16, and what has contributed to it? Let's look at that in the next part of the series.