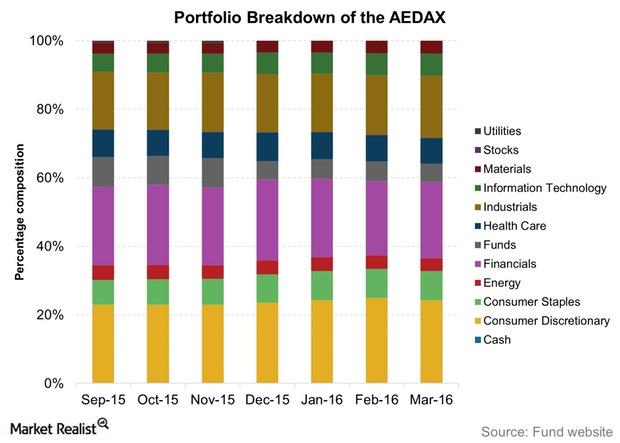 Sector Composition Changes in AEDAX until 1Q16
By David Ashworth

Apr. 28 2016, Published 4:32 p.m. ET
Invesco European Growth Fund
The Invesco European Growth Fund – Class A (AEDAX) "seeks long-term growth of capital by investing in a diversified portfolio of reasonably priced, quality companies in the European region, with strong fundamentals and sustainable earnings growth."
Fund managers invest across market caps. But investors should note that the small and mid-cap spaces are their primary focus areas. Fund management emphasizes fundamental research when choosing securities for the portfolio. Sector and country trends are of secondary importance to fund managers.
Article continues below advertisement
The fund's assets were invested across 69 holdings as of March 2016. That's one less than a quarter ago. It was managing assets worth $1.6 billion as of the end of March. As of March, three of its top ten equity holdings were RELX (RELX), WPP (WPPGY), and British American Tobacco (BTI), which made up 6.9% of the fund's portfolio. As of December 2015, the fund was also invested in Publicis Groupe (PUBGY) and UBS Group AG (UBS), among others.
Portfolio changes in the Invesco European Growth Fund
For this analysis, we'll be considering holdings as of December 2015, as that's our latest available sectoral breakdown. The fund hasn't yet declared its portfolio for March. The holdings after December reflect the valuation-driven changes to the portfolio, not the actual holdings. The fund declares complete holdings once a quarter.
Consumer discretionary, financials, and industrials are the core sectors that make up AEDAX. These three sectors form a combined 61% of the fund's assets. Discretionary and financials have almost the same weight in the portfolio. The fund has 11.7% of its assets as cash and equivalent securities. It's not invested in telecom services and utilities. Fund management exited equities in 4Q15.
In terms of sectoral composition, the picture hasn't changed much over the past one year. Exposure to consumer-related sectors has increased in the past two quarters. Industrials have also seen their shares rise in that period. Meanwhile, the energy and healthcare sectors have seen their chunk of the portfolio falling in the period.
In the next article, let's take a look at AEDAX's performance in 1Q16 and what contributed to it.