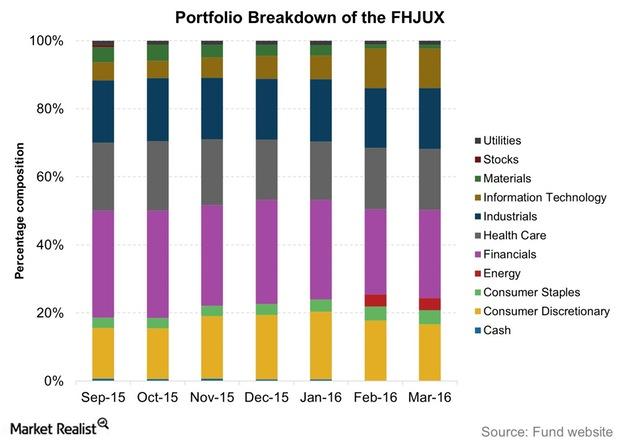 Sector Composition Changes in FHJUX until 1Q16
Fidelity Advisor Europe Fund
The Fidelity Advisor Europe Fund – Class A (FHJUX) seeks to grow capital over the long-term by investing "at least 80% of assets in securities of European issuers and other investments that are tied economically to Europe."
The fund's management believes in investing in superior quality companies that are available at a discount to their fair values. Its bottom-up stock picking focuses on investing in those companies that have "proven business models, wide competitive moats and access to scarce or intangible resources (e.g., properties, cost structure, R&D, brands, company culture and management)."
Article continues below advertisement
The fund's assets were spread across 73 holdings as of March 2016, which is six less than a quarter ago. It was managing assets worth $1.3 billion as of the end of March. As of the February portfolio, its equity holdings included Shire (SHPG), SAP (SAP), Statoil (STO), B shares of Novozymes (NVZMY), and Rolls Royce Holdings (RYCEY), which formed a combined 12.5% of the fund's portfolio.
Portfolio changes in the Fidelity Advisor Europe Fund
Financials, industrials, healthcare, and consumer discretionary form the core of FHJUX. Financials forms a little less than a quarter of the portfolio. Industrials and healthcare are a joint second with 18.3% exposure each. Meanwhile, consumer discretionary forms 17% of the fund. The fund isn't invested in the telecom services sector.
Compared to a year ago, FHJUX has increased its investment in the consumer discretionary, financials, and IT (information technology) sectors. Except for IT, the other two sectors form more of the portfolio now than they did a year ago, but they're still lower than their respective amounts intrayear.
In the same period, the fund manager has sharply reduced exposure to consumer staples stocks by half. Healthcare, industrials, and materials have also seen their shares fall from a year ago.
There are two interesting developments in FHJUX's portfolio. The fund manager exited the energy sector completely in mid-2015. But he reinitiated exposure to the sector in February 2016, and stocks from the sector now form more than 3% of the portfolio. The other interesting development relates to the IT sector. Stocks from IT formed a little less than 6% of the portfolio when 2016 began. As of the end of March, the sector makes up more than 12% of the assets.
Did the changes in FHJUX help it in 1Q16? Let's look at that in the next part of the series.