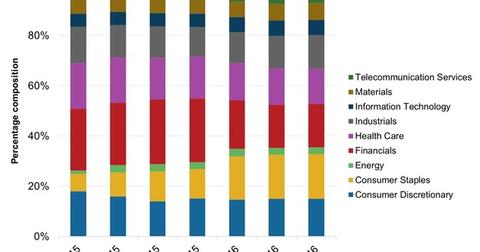 Sector Composition Changes in AXEAX until 1Q16
By David Ashworth

Updated
Columbia European Equity Fund
The Columbia European Equity Fund – Class A (AXEAX) invests in "equity securities of European companies that are believed to offer growth potential. Under normal market conditions, it invests at least 80% of its net assets (including the amount of any borrowings for investment purposes) in equity securities of European companies."
Fund managers can invest in securities of companies based on developing or emerging markets as well. However, the bulk of the portfolio will be invested in securities of companies based in developed economies.
Article continues below advertisement
The fund was invested across 69 holdings as of March 2016, seven more than a quarter ago. It was managing assets worth $515.6 million as of March. In March, its equity holdings included Unilever (UL), BT Group (BT), Roche Holding (RHHBY), Bayer (BAYZF), and CRH (CRH), which comprised 16.8% of AXEAX's's portfolio.
Portfolio changes in the Columbia European Equity Fund
For this analysis, we'll be considering AXEAX's holdings as of February 2016, as that's the latest available sectoral breakdown we have. The holdings after February reflect valuation-driven changes to the portfolio, not the actual holding.
The top five sectors invested by AXEAX have the fund's assets quite evenly distributed among them. Financials and consumer staples commanded 17.6% of the portfolio each. Exposure to consumer discretionary, healthcare, and industrials were 13%–15% each. The fund isn't invested in the utilities sector.
Compared to the MSCI Europe Index, AXEAX is overweight in the consumer staples, consumer discretionary, industrials, information technology, and telecom services sectors. It's underweight in the others. Exposure to healthcare is almost the same.
Some portfolio moves are quite clear. Fund managers have stepped up exposure to consumer staples substantially in the past year. A year ago, the sector formed 9% of the assets. It fell to less than 6% intrayear but now stands at more than 17%. At the same time, exposure to consumer discretionary stocks has decreased from a fifth of the assets to ~15%.
Exposure to financials and healthcare stocks is less than a year ago. Exposure to information technology and telecom services has increased noticeably.
With this composition, how did AXEAX fare in 1Q16? We'll look at that in the next part of the series.