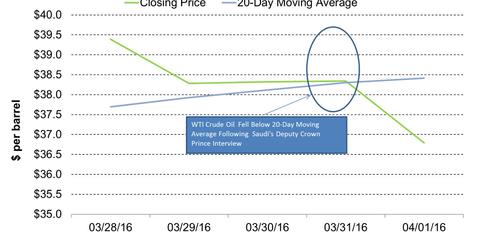 No Iran, No Saudi Arabia in the Production Freeze: What It Means
By Rabindra Samanta

Updated
No production freeze without Iran
Saudi Arabia's deputy crown prince, Mohammad Bin Salman Al-Saud, indicated that a production freeze will only be possible if Iran is ready to participate in limiting its production to January 2016 levels. The production limit talk is scheduled for April 17, 2016, in Doha. Oil producers from OPEC (Organization of the Petroleum Exporting Countries) and non-OPEC countries are going to participate in the events.
Article continues below advertisement
Why does Saudi Arabia want Iran to join the production freeze?
Saudi Arabia and Iran had a bitter relationship in the past. Both of the countries are expecting to be the regional leader in the Middle East for many decades. However, Al-Saud's recent stance isn't limited to the political front. It has a deeper economic impact on the kingdom.
Saudi Arabia's economy depends on oil. In Saudi Arabia's case, it limits its production if Iran doesn't join. It gives Iran a free arm to increase its revenue from crude oil. Again, Europe and Asia are important markets for Iran and Saudi Arabia. Without a production cap, Iran might erode Saudi Arabia's market share in these markets.
WTI crude fell 
US (SPY)(IVV) crude oil (USO) fell 4.0% compared to the previous trading session and closed at $36.79 on April 1 as the success of a production freeze talk seemed to fade. On April 1, 2016, WTI crude moved below its 20-day moving average. The above graph shows the price performance of US crude oil futures compared to its 20-day moving average.
Upstream companies such as Northern Oil & Gas (NOG), Denbury Resources (DNR), and Kosmos Energy (KOS) fell 4.7%, 8.6%, and 3.6%, respectively, on April 1, 2016. They operate with crude oil production mixes of 87%, 100%, and 94.9%, respectively.