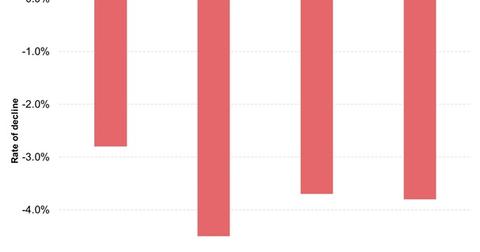 The Russian Economy Has Been Hurt by Crude, Economic Sanctions
By David Ashworth

Updated
Crude oil prices have weighed on the Russian economy
The Russian economy remained in recession after having declined by 3.8% in 4Q15 from a year ago. The figure was released by Russia's Federal Statistics Service. The economy had contracted by a revised 2.8% and 4.5% in the first and second quarters, respectively, followed by a 3.7% contraction in 3Q15.
The latest figures showed that the Russian economy had declined by 3.7% in 2015. A country is said to have entered a technical recession if it posts a decline in two successive quarters.
One of the reasons for the Russian economy being in a recession is the decline in crude oil prices. Crude and gas exports form around 40% of Russia's budget revenue. Thus, the sharp impact of a decline in crude oil prices is unsurprising.
This has impacted energy companies like Public Joint Stock Company Oil Company LUKOIL (LUKOY), PJSC Tatneft (OAOFY), and Public Joint Stock Company Gazprom (OGZPY), along with impacting the government's revenues. However, this is not the only reason for a recession in Russia.
Article continues below advertisement
Economic sanctions have contributed as well
Russia's aggressive stance against Ukraine resulted in economic sanctions being imposed on the country. Its annexation of Crimea and contribution to the conflict in Ukraine led to its economy being hurt badly in 2015. While the economy was down by 3.7%, the wholesale and retail sector contracted 10% and the construction sector declined by 7.4%.
Russia's counter
In order to counter the ill effects of sanctions and crude oil price declines, the nation decided to let its currency, the ruble, trade freely. A sharp decline in the ruble in 2015 led to Russian exports becoming attractive, thus cushioning some of the negative impacts.
Russia's economy minister, Alexei Ulyukayev, opined that the decline in the nation's economic output is bottoming out. According to him, the economy is expected to post an annual rise between the second and third quarters of this year.
In the next article, we'll pit the performance of ETFs (RSX) and mutual funds (LETRX) investing in Russia against each other.