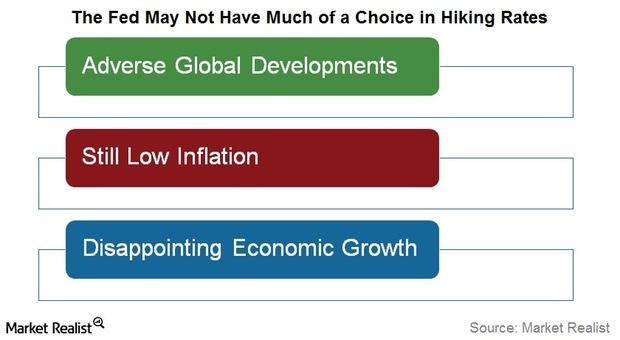 What Rate Hike Road Is the Fed Really on in 2016? (It Looks Strangely Like 2015)
By David Ashworth

Nov. 20 2020, Updated 5:29 p.m. ET
Dovish by choice or chance?
Is the Federal Reserve being dovish with rate hikes because it wants to be, or because it has to be? Before 2015, this answer would have been that the Fed wanted to go slow on rate hikes. There were times when it seemed that the US economy was ready for a rate hike, but the Fed held on, possibly because it wanted the economic engine to start pulling full steam ahead.
However, several unforeseen events—like the economic situation of some members of the Eurozone and the sharp decline in crude oil prices (NOV) (HP) (CLB), to name just two—threw a wrench in the works. The economic situation of Greece and others was not unknown, but people and policymakers didn't anticipate that it would come to such a boil.
Article continues below advertisement
The sharp decline in energy prices (XES) (SHRAX) had an all-around impact. It depressed inflation, held back job gains as people lost jobs in the mining industry, and hurt exports, thus impacting economic output. Then China came to the fore with its economic problems and spooked central banks and financial markets around the world.
Due to these factors, the Fed's hand was forced to withdraw from triggering aggressive rate hikes.
Expectations going forward
Although we still have two-thirds of 2016 to go, it seems like policymakers are going down the same road they took in 2015. In early 2015, there was a lot of talk in June 2015 about the first of several rate hikes. This later shifted to September, and at one point, it seemed as if there would be no hike in the year.
Policymakers are now hinting toward a rate hike in June. But markets seem to be feeling otherwise. If June also goes without a hike, we're going to hear talk around this issue grow.
We'll keep an eye out for these developments, so keep checking in with our Global ETFs and Mutual Fund pages.