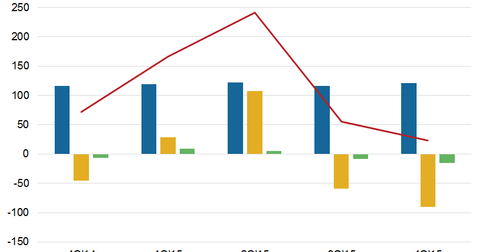 Credit Market Revival: How Could It Affect Blackstone's Earnings?
By Robert Karr

Updated
Impact of public markets
In the December quarter, Blackstone's (BX) credit division reported a fall in its revenue to $23 million, down by 68% from the same quarter last year. The credit division's economic income fell by 87% during the fourth quarter, mainly due to energy commodity pricing, turbulence in the credit market, and technical pressure caused by year-end selling.
In the March quarter, Blackstone expects a strong rebound in credit markets. After the worst sell-off in speculative-grade debt since the financial crisis, alternatives have shown more interest. Average yields on dollar-denominated notes have increased to 9% from 6.8% in 1Q15, although few bonds actually trade with such yields.
Article continues below advertisement
Blackstone manages or sub-advises senior credit-focused funds, distressed debt funds, mezzanine funds, and general credit-focused funds concentrated in the leveraged finance marketplace. The company's total assets under management stood at $336 billion in the March quarter. Let's compare this with the assets under management of Blackstone's peers:
Together, these companies form ~1.4% of the Financial Select Sector SPDR ETF (XLF).
Idle capital
The division's total assets under management rose by 9% in the December quarter and reached $79 billion, driven by new product launches. Blackstone launched a total of eight collateralized loan obligations. The division's fee-earning assets under management rose by 5% year-over-year, driven by capital deployed in drawdown funds as well as the capital raised in hedge fund strategies and performing credit businesses.
The gross composite returns for the fourth quarter fell by 7.7%, 11.2%, and 5.7% for mezzanine, rescue lending, and hedge fund strategies, respectively, due to energy commodity pricing and turbulence in the credit markets. The company deployed a record $2.6 billion during the quarter, primarily in the energy sector and the European direct lending space on attractive valuations. These investments and others are expected to see a strong rebound in the March and June quarters.