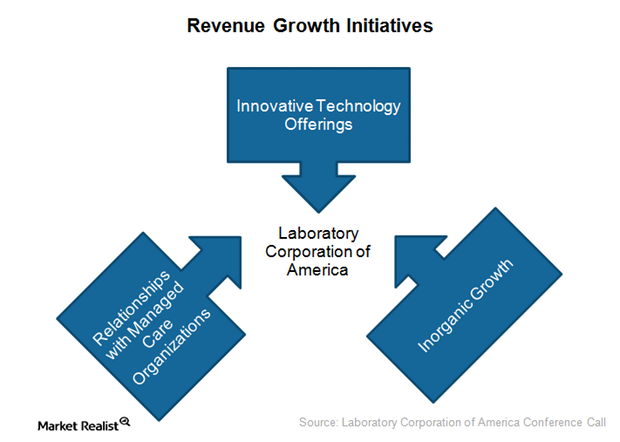 Revenue Growth Initiatives Drove LabCorp's Performance in 1Q16
By Margaret Patrick

Apr. 27 2016, Published 3:51 p.m. ET
Revenue growth initiatives
In 1Q16, Laboratory Corporation of America (LH), or LabCorp, reported strong revenue and earnings growth due to the effective implementation of multiple strategic initiatives.
Article continues below advertisement
Innovative technology offerings
LabCorp (LH) is the world's leading healthcare diagnostics company. It provides drug development, diagnostic services, and other technology solutions.
In 1Q16, the company continued to focus on improving its integrated testing solutions in areas such as clinical trials, supply chain management, decision support, and reference testing in 1Q16. The company is also actively involved in forging close relationships with healthcare providers as well as pharmaceutical companies.
To differentiate its services from peers such as Quest Diagnostics (DGX), Opko Health (OPK), and Davita Healthcare Partners (DVA), LabCorp also offers tools with data integration and analysis capabilities, which help its the clients in decision support and reporting. The company also provides cost-effective laboratory services to its clients.
Article continues below advertisement
Relationship with managed care organizations
Because managed care organizations account for about 33% of LabCorp's unique customer mix in 2015, the company continues to nurture its relationships with multiple healthcare plans in 1Q16. The company is also involved in further developing its relationships with government payers to boost its profit margins.
Inorganic growth
To boost its long-term profitability, in 1Q16, LabCorp has invested about $100 million for acquiring targets that it expects to enhance the company's esoteric testing capabilities. According to Qualisys Diagnostics, "Esoteric testing is the analysis of unique, 'niche' assays not routinely performed in clinical laboratories as they often require specialized personnel."
If these revenue growth initiatives continue to prove beneficial for LabCorp, it may boost the company's share price. It could also benefit the iShares MSCI USA Minimum Volatility ETF (USMV). LabCorp makes up about 0.5% of USMV's total portfolio holdings.
In the next article, we will explore in detail the performance of LabCorp Diagnostics in 1Q16.